Taking Flight
September 18, 2008
"This is it," I thought to myself, "the first day of the rest of my summer." Following the unreasonably long wait in security and the droning five hours it took to check in our luggage, the event I had anticipated for at least six full months teased me with its proximity. Numerous emotions surged through me: enthusiasm, apprehension, glee. All whipped into a thick batter of pure irresolution. Today I would fly to Europe.
Not too passionate about the eight hour flight over the shark-infested Atlantic Ocean, I fretfully made my way over to the terminal adjacent to our gate. I plopped down onto one of the somewhat uncomfortable seats and absently stared at the various colors, shapes, sizes, and expressions of the people strolling by until I realized I had received funny looks from the preponderance of them. Suddenly, after the longest forty-five minutes of my life had conceded, the attractive blonde woman at the check-in counter waved my mother, grandmother, and two aunts towards her with a slender hand protruding from a cuffed white shirt. Silently, I watched as my mother's expression twisted into a frown, into a look of wholesome panic, and then slowly spread into the biggest smile recorded in the history of mankind. "What's going on?" I asked myself frantically. I hardly had time to answer my own question before my grandmother strolled over to me with a look on her face as if she knew how to obtain world peace. "Our connecting flight in England encountered some issues," my grandmother affirmed "so we have to take a different flight." The puzzle pieces of the situation locked into place. "Danielle," she said blissfully "have you ever flown first class before?" Beaming with unanticipated shock, my worries seemed to have swiftly melted away. The sum of wonder I would encounter on this eight hour first class flight existed far beyond my twelve year old imagination.

I smiled nervously at the flight attendant as she obtained the ticket I had bent and rolled a copious amount of times while waiting in the terminal, tore off the perforated stub, and placed it back in my petite hand. My cousin, Alyse, followed suit and locked her arm through mine as we walked through the terminal door, finally freeing ourselves of the torture chamber of people snoring, people that talked too loudly on their cell phones, people that took up two seats, people with whiny babies, and people that gawked at you for no apparent reason. We had finally escaped...

The hallway to the plane entrance seemed like an endless channel. Not only that, but it smelled of nervous perspiration blended lightly with the smell of jet fuel and airline food. I felt important as I walked proudly down the economically carpeted, air conditioned hall. After all, I didn't fly on a plane everyday; especially one going to Europe.
I entered the aircraft eagerly and passed by the aisles of standard seats that originally belonged to us. Staring down at the people sitting in coach, I felt a sudden pang of remorse. Soon after, we made our way to the upper class portion of the plane. I clapped my hand over my mouth to not only keep my jaw from dropping, but to preserve my dignity as well. "Wow." I whispered quietly as I gazed dreamily at the brushed stainless steel, contemporary styling, and soft lighting that defined the obvious upgrade from the last cabin. I eventually reached my seat, keen to observe all of the first class perks waiting to be discovered. I found it surprising how something ordinarily simplistic to a celebrity or a person of high status, could heighten my already brimming mood.
The plane turned smoothly onto the runway, and immediately began to increase its speed. Faster and faster the plane shot down the eternal stretch of pavement. I could feel every bump and crack on the concrete under the wheels as if I had glided over them myself. The jet split from the ground as the sharp wave of gravity pressed me into my cushioned seat. A small head rush and a spell of dizziness later, we were skimming the plush, white clouds. I secretly smirked to myself. Our journey had begun.
A flight attendant handed each of us a complimentary bag filled with assorted toiletries and a white card-stock menu of various dishes served in first class. I felt like a queen having someone wait on my hand and foot at the touch of a button. Finally after much debate, Alyse and I settled on a warm tomato and mozzarella sandwich, fruit salad, and a glass of milk, with chocolate chip cookies for dessert. In an instant we had become quite comfortable with the first class lifestyle we had so fervently dreamed about.
By the time we had completely devoured our meals, Alyse and I had discussed our plans for Europe for at least two hours straight. We would eat this dish at that restaurant, and visit that famous painting at this museum. Six hours into the flight, I felt completely drained of the seemingly bottomless pit of energy I had possessed only a few hours earlier. In no time I had figured out the majority of the buttons on the remote to my personal TV, and had absorbed myself into the latest episode of Spongebob Squarepants. I propped my head up on a travel pillow and re-covered my cold feet with the navy fleece blanket that the flight attendant had offered me earlier.
The night sky had set in and glittered with the sea of stars that spilled upon its ebony surface. "Maybe good things do come to those who wait…" I thought as I recalled waiting in the terminal only a few hours before. The whir of the plane's engine seemed calmer and more soothing than I had remembered. My eyelids grew heavy as the soft hum of the noises around me lulled me to sleep, only to dream of the memories and experiences Europe was destined to endow and how blessed I was that I would get to live them.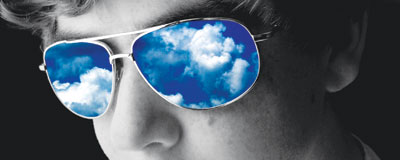 © Joseph B., Mesquite, TX