The House on Harrison Court: a Vignette
August 1, 2008
My house is on the top of the hill and at the end of a culdesac. In elementary school I was the only one who knew what a culdesac was, and my first word I learned to spell was S-T-O-P because I always saw the stop sign outside my house. I learned that I couldn't add a street sign saying "NO U-TURNS" without asking City Hall and if a car made a U-turn on the culdesac I learned to stand on my tippy toes so the driver would see me. On my culdesac, I learned how to bike down steep slopes and how to make sharp turns on my bike. After a while, I learned that boys are no fun to play with because all they want to do is play video games when I want to have a water-gun fight.

My backyard has a swing set and a trampoline. Still it wasn't good enough, because my neighbors had a pool, and they never invited me over to swim. There is a giant deck that houses squirrels, moles, cats and a whole zoo of other unwanted visitors. Hives of bees swarm around me, waiting to bite me. The trees are never good enough to climb, and our pile of autumn leaves was never big enough to jump into.

But when it snows, we have the best house on the culdesac. The snow plow creates a huge pile of snow by the end of our front yard, big enough to build an igloo. There is a spot in the backyard that, if I start sledding down from there, I will go all the way down the backyard, and I will go down the front yard, still going and going, and end up in the snow igloo.

Maybe, my house isn't so bad in the summer either. Where else can you roll down the hill, roll, roll, roll, until it starts getting flat and you know to stop before your head hits the blacktop?

And then it is Hey, can we come over? Can we roll, roll, roll, and jump and jump and swing and sled? When it is like that I am happy, proud of the long steep hills and the snow igloos, and the zoo under my deck and the culdesac and U-turns. It's then when I call this house on Harrison Court my home.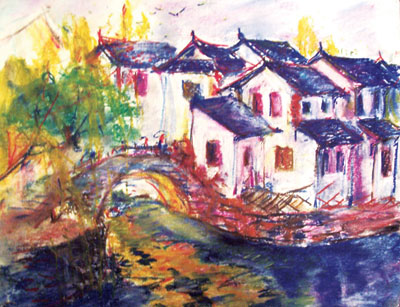 © Xiao H., Naperville, IL