Dinosaur Wallpaper
July 25, 2008
The doors to the elevator opened and I walked into the waiting room at my family pediatrician's office. I walked up to the front desk and said hello to a young man with green hair who greeted me and told me to sign in. I signed my name; my appointment time, which was four-thirty; and my time of arrival, four-thirty on the dot. I took a seat that faced the front desk and the green-haired young man took a seat behind the desk to do paperwork. I began to feel nervous, but I had no reason to be; it was just a yearly checkup. I looked at the wall in front of me which was white and had a boarder of dinosaur wallpaper that followed the curves of the wall. The wall has looked the same for all seventeen years that I have been going to this office. I looked to my right and saw the waiting room where the sick children are supposed to wait. I have only waited in the sick waiting room once before and I was not even sick that time.

After what seemed like eternity, a pretty nurse wearing pink scrubs came into the waiting room from a door next to the front desk and told me to follow her. I followed her into a white room with a green boarder that had countertops scattered throughout the room, a clerical area in the middle, and rooms leading out of it. The room was filled with a few doctors, nurses and secretaries who smiled as I passed them. I thanked the nurse as she directed me into a room and told me to put on a blue hospital gown.

I hate hospital gowns. No matter what the weather, I always feel cold when I am wearing a hospital gown. I remember coming to this same doctor's office when I was younger and getting to pick the pattern of the hospital gown I wanted to wear. I do not think I hated hospital gowns back then.

After a few minutes a nurse with a frizzy ponytail knocked on the door and came in. She asked me the standard questions that all patients my age are supposed to answer, some of which I found awkward. The nurse showed me two graphs, one of which graphed my height compared to my age and the other which graphed my weight compared to my age. I looked at the beginning of each graph and the end of each graph, and I realized how much I had changed physically and mentally throughout all those years.

The nurse turned out to be very nice. She asked me about school and about what I was interested in doing after high school. When I told her I wanted to be a writer, she told me about her son who was in high school and was also interested in becoming a writer. When she was done asking her questions, she told me the doctor would be with me in a few minutes.

When the nurse left, the room felt quite empty. In order to fill the room, I hummed a few songs that I had been listening to that morning. I knew the time had come to cease my humming when I started trying to add harmony to my own humming. The harmony did not quite work out.

After a few minutes, my doctor came into the room. My doctor has a very kind face. I remember he used to have little stuffed animals clipped onto his stethoscope. He also used to look in my ears and say I had monkeys jumping around in them. We talked about school, my family, his family, and me. My mom said that when I was a baby, I had my first ever checkup with a different doctor who handled me roughly and made me cry, so she switched to my current doctor who was extremely gentle with me and made me laugh. My doctor is a very nice man and he still makes me laugh. After about fifteen minutes we said our goodbyes and he left the room.

After changing out of the uncomfortable blue hospital gown, I left the room. After a near-collision with the green-haired young man from the front desk, I said goodbye to the various doctors, nurses, and secretaries who were in the white room, and then I walked back into the waiting room. I smiled at a woman waiting in the waiting room with a small child. I left the waiting room and walked into the elevator that would take me back to the lobby. As the doors of the elevator closed, I looked at the dinosaur wallpaper in the waiting room and wondered if it would still be there the next time I came.

The elevator brought me down to the lobby and the doors reopened, revealing a modern-looking front desk. The day was nice, so I went outside and sat on a blue bench to wait for my dad to pick me up. As I sat, I thought about the journey I had just experienced. In my journey, I learned that in life, some things are forced to change while other things stay the same. I thought of the graphs that graphed my height and weight compared to my age. Those graphs, as well as many other things, have changed throughout the years, but the dinosaur wallpaper has remained the same.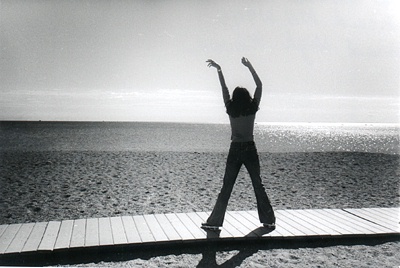 © Colleen F., Marblehead, MA