Toy Story
MAG
June 18, 2008
The toy store smelled like linoleum, gunpowder, and hamsters. You could blame the linoleum on the floor, the gunpowder on my dad's favorite hunting store nearby, and the hamsters on the PETCO next door, but you couldn't explain the less prominent, but still present, scent of formaldehyde. I didn't really care, because I was seven years old and in a toy store, and I had just fallen in love.

If you divided my childhood into neat little phases of emotion and activity, this would be the post-divorce phase of fatherly material overcompensation. In other words, these were the times when almost every week my dad would take me to some toy store in order to buy my love. He liked to call it "getting you some nice new toys for your nice new room at my nice new house."

The thing is, I don't remember my parents' divorce. I remember them talking upstairs for a couple of hours, and the sun shining, and me thinking it was weird that they left me alone outside for so long when usually they didn't. I ­remember playing idly and stupidly with some dead leaves, and then my mother saying, "We need to have a family talk," in this stern voice when she finally opened the door.

"Is it a funny talk?" I replied, my grin a mile wide while I kicked leaves up in a long wave over my head before they floated back down to the dirt.

"No, honey, this is a serious talk."

And that's how my parents divorced.

Except none of that is important, not really, because I was seven and I was in love. That Saturday I fell in love with a Pokémon hospital play set.

It was one of those compact toys that most kids would destroy the moment they got home by losing all the parts, swallowing the small pieces, and just generally abusing. Except I was a weird kid. I was really careful and not only could I be trusted with tiny, swallowable pieces, but I cherished such things because they meant responsibility.

This toy, made in Vietnam, was a tiny hospital for Pokémon. It came with a Charmander (one of my ­absolute favorites), a Chansey dressed like a nurse, and a small plastic gurney. It had those stickers that you use to decorate the plastic and once you stick them on they never come off. So that was why my hospital happened to have trees in its intensive care unit and flowers on its gurney. What the heck – it contributed to the atmosphere.

That toy was my favorite in a way that nothing else at my dad's house was. I remember playing with the brand-new Beanie Babies he got me and feeling sorrowful and unfulfilled. I remember lugging Pokémon videos from my mom's house to my dad's just to have something to do. The hospital saved my life. It opened my eyes and shed light on a brave new world where anything was possible – where Charmander could have both brain cancer and an emergency operation, and nurse Chansey would still save the day with her superior medical skills, kind nature, and flower-covered gurney.

I think I fell out of love around age 10. It was inevitable. It must have been some time between 2001 – when Pokémon simply became not cool anymore – and another indeterminable time when I stopped saying, "Yes, Father dear, I would love it if you bought that [fill in the blank] for me, please and thank you." Things would just never be the same. Charmander had a couple of kidney failures, but it wasn't fun anymore. I'd look at Chansey in her sweet little apron and I would feel wrong.

I never officially broke it off, you know. I'm a little passive-aggressive. I like to think Chansey and Charmander sat together in the now eternally darkened waiting room, sipping small plastic coffees and nodding their heads wisely while they deconstructed their personal heartbreak over my decision.

Anyway. I don't know where the idea about the pills first came in, so let me explain.

At the oh-so-awful, oh-so-awkward time in my life called fifth grade, my mom and her evil, evil dermatologist (whose name I cannot even bring myself to type) put me on prescription drugs. Specifically, ­ACCUTANE. ACCUTANE is in caps. ACCUTANE sounds like the crackling flames of hell and dramatic orchestral music, and orange and white pills that I was forced to choke down twice a day in order to cure my acne.

I was not a happy camper.

So one day during this phase entitled "Kathryn Takes Prescription Drugs Against Her Will," I got the idea to hide some. I was at my dad's house, and well, I get away with a lot there.

One day, I hid about half a bottle of ACCUTANE in my tiny plastic Pokémon hospital. I like to think that Charmander and Chansey and I had been through a lot together, and they would completely understand my predicament and accept my pills into their empty hospital corridors.

The thing was, the very next day I had entirely ­forgotten about my little scheme.

My dad had invited some friends over, people he had taught in UCLA back when I was a tiny blubbering ball of baby and my parents were together. Rachel was one of these friends. Rachel was nice to me, and she had a twin sister. I would always get them mixed up, so up until I was about 13, I would wait until one of them said her name before I spoke, just in case I made an embarrassing mistake. As host and 12-year-old, I had to ­relinquish my old toys temporarily to Rachel's two-year-old daughter, Ruby.

I remember sitting blandly on the blue carpet in my room, watching Rachel crack open the Pokémon hospital. The idea that an adult was finding pills in my toy didn't really sink in for a few minutes.

Rachel finding my discarded ACCUTANE was like my parents' divorce.

"Oh, Ruby, you can't play with this. It's a grown-up toy," Rachel said, half sarcastically. I gave her a huge-eyed mortified look as Ruby smoothly moved on to a soft gray Beanie Baby cat, shifting swiftly from one thing to another in a way I never had when I was a child. That was it. That was how the Pokémon hospital became a grown-up toy.

I hid it in a corner and never opened it again. I'm sure Charmander and Chansey took their solemn sentence in stride. Such a cunning 12-year-old I was.

The toy smelled like plastic and stomach acid and drugs when I hid it away forever.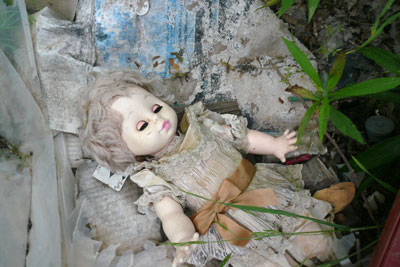 © Ashley J., McDonough, GA