My Dad
October 29, 2012
Everyone has someone extraordinary in their life. For some people it's a family member, or a special person that's more than a friend. Can you think of your one special person? I can; the most important person in my life, my dad.

Throughout my life I've had one hero who's been there through it all. He's nothing like Spider-Man or Captain America. He's so much stronger than them. I don't know how I could go through life without him. My dad is the strongest man I know. When I was four, my family and I went camping in the Upper Peninsula. We had our motor home, so we had been going to many campgrounds. But through the middle of our trip I decided that I wanted to be a big girl, and cook my own marshmallow. I did and somehow managed to not burn it! It was the flawless marshmallow. I was so excited that I began jumping up and down, and I got too close to the table with a lantern on it, and I burnt my arm. And in the process of burning my arm I managed to drop my first marshmallow. But, my hero was there; he helped me fix my boo-boo, and make another marshmallow. He saved the day. And he can handle so much. With everything that has happened in my family, he still goes through life with his head up. He does everything in his authority to make sure I'm happy and have everything that I need.

When I was eleven my mother left. My dad really had to step up and raise an eleven year-old daughter, without the help of a wife/mother. He was working seven days a week to support the family when my mother left. And he was willing to give up his job to stay home with me. He wasn't sure what to do, but he knew that he wanted to do what was best for me. He knew working third shift, seven days a week wasn't going to work. He went to the administrative office one day, to quit, but they told him he was too good to lose. So they let him transfer to first shift, just as long as he didn't quit. By him changing his life, I've changed mine.

All my life I've been a "daddy's girl", even before my mom left. And as I was growing up and shaping who I wanted to be, I watched him. I cherish his qualities and the way he lived his life, and I still do today. I used him, his qualities to help me form who I want to become someday. My dad is independent and strong. He has many friends and people trust him. When I am older I want people to respect me, like they respect him. Things my dad lives by also helped me get to where I am. He always tells me if I want to be someone, and go somewhere with my life, that I have to make it happen and not depend on anyone else.
Everything that I have accomplished in my life was made possible because of my dad. No matter what I do he supports me on all of my decisions. He also forgives me for my mistakes, he understands and he cares. He is the most single significant person in my life. Without him I would not be who I am today. I would not have made it this far in life either. He is my knight in shining armor.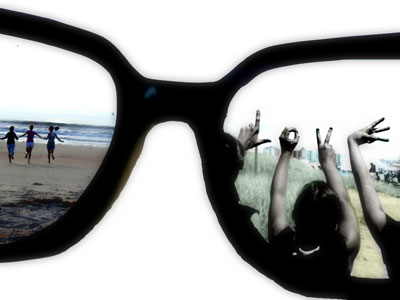 © Christina G., Bedford, NH