True Colors
July 14, 2008
As children, our world was composed of nap time, play time, story time, snack time, and other times dedicated to making us happy. We laugh when we think back at the "conflicts" of preschool; for instance that time when Bobby stole your purple crayon. You were mad. No amount of nap time could ease the five-year-old anger you had pent up inside of you. But just as easily, you can remember when Bobby came up to you later and handed you your crayon back along with his half-eaten Snickers bar. And that was it. You and Bobby were friends again, as though nothing ever happened.

Temper tantrums aside, there is something to learn from the preschooler inside of us. When we were younger, it was easy for us to recover from our problems. We looked past each others flaws. Sure Suzy still sucked her thumb, Jack wore his pants up too high, and sure, Bobby had his crayon stealing tendencies, but in the end, they were your friends- no matter what.

Some say life is like a box of chocolates. I say life is like a box of crayons. As children we accepted the colors that filled our crayon boxes just like we accepted our peers. You may have liked periwinkle better than plain blue, but when it came down to it, your crayon box wouldn't be the same without them both. Everyday we meet new people to add to the box of crayons that is our life. In the end, we are left with a box of crayons that is so beautiful and unique that Crayola itself would be emerald green with envy.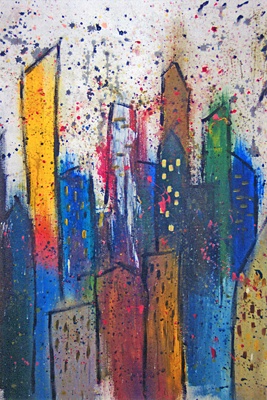 © Chase C., Centerville, OH