A Hair's Strength
MAG
June 18, 2008
My high school was probably like any ­other – the football players bullying the nerds before school, the cool kids going to the park at lunch to smoke cigarettes, and the science club raising money to help find some cure. At least, that was my sophomore point of view.

I was different from most kids my age because I was a good cookie – the no-party, no-sex type. My best friend, "Mary," on the other hand, was the ­exact opposite.

She had her septum pierced and a sleeve tattoo on her right arm. She had dull, limp shoulder-length hair. When we first met, she told me about her problems at home. She was anorexic, sometimes not eating for five days. Anything she ate, she would immediately throw up because of her fear of not being skinny enough.

Though her disorder alarmed me, I felt like it wasn't any of my business. I would talk to her about it and try to get her to eat lunch, but I didn't stick my nose in.

We were best friends. We always walked together in the halls, laughed at inside jokes, went shopping, and had sleep-overs. I looked up to her in ways I'm sure she wasn't even aware of.

Everything dramatically changed one night when Mary stayed over at my house. In the morning I awoke next to her and saw her head resting on a pillow of her hair; almost all of it had fallen out. My stomach dropped and a flash of heat flooded my face.

That was the hardest morning I ever had, watching her cry and react to her hair loss. A girl's hair is her pride, her reputation, and her identity. It is an important part of her self-esteem.

She wondered why it had happened, but I knew it was because she was malnourished. I didn't know that hair loss was part of her disorder, but I remembered studying the Holocaust and seeing pictures of starving people who had gone bald. This thought made my hands break out in a cold sweat.

I couldn't let her go through this alone. Impulsively, I grabbed an electric buzzer and, sobbing, watched my own brunette strands float gently to the bed. She screamed at me not to do it. After all the drama, we sat silently on my bed amid the mixed strands of our hair, soaking in everything that had happened.

School after that was twenty times harder. ­Because of our lack of hair, we were called
names like "dyke," "skinhead," and even "Britney Spears." At least we weren't alone. I felt humili­ated, yet blessed with selflessness. After all, my hair would grow back.

And eventually it did. The following summer it was as long as a boy cut. Shortly after Mary's hair loss, she went to a treatment center for her disorder somewhere in India, two thousand miles away. It was time to move on with my life, though I still wondered if Mary's hair ever grew back and if she found a better friend than me.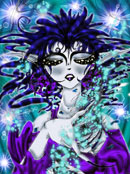 © Lena B., Olympia, WA