Celebrity Body Image in the Media
September 18, 2012
The body image is a prime factor of unneeded stress in teens and adults. The celebrity body image in the media is a very negative image. In sitcoms, movies, magazines, and advertisements, we see how thin celebrities are. Teens and adults want to be like them. Also, the body image makes people take shot to their self-esteem.

Woman want to look like the celebrities, who are "Hollywood Thin." Dr. Harrison pope, a psychiatry professor at Harvard, "Millions of people suffering same, self doubt, and embarrassment because of this damaging emphasis on body image." Psychologists say "Woman are undergoing a fundamental shift in the way they think about their looks." This isn't a good image or model for teens and young adults. In a study by the University of Sydney, 118 undergraduate students at the university (64 female and 54 male). Only 20% were right, the self-satisfied students that is. ProActiv advertisements uses testimonial and plain folks to encourage teens to not love their skin, so they will buy the product. The celebrities seem perfect in those commercials and we will think we'll be like them if we use the product. Recently, Justin Bieber was named the spokesman and face of ProActiv. It isn't a positive model for teens everywhere.

Of course, it isn't a bad thing to look good. But this is a low-esteem issue and pressures teens to look better. The sitcom "Ugly Betty" shows actress, America Ferrara as an 'ugly' teen and the producers don't want to change the character's image. The character, Betty, is surrounded by the fashion industry and has been pressured to change by other 'good looking' characters. In the movie business, you have to be attractive but can the image be more positive instead of negative? The body image is very negative to teens and young adults.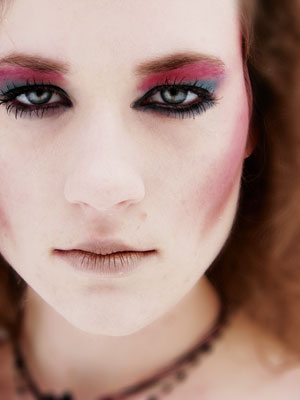 © Elizabeth H., San Bernardino, CA