You Are My Everything
August 31, 2012
Its hard to think that half a year ago I barely knew you. Its hard to think that we were only friends in marching band half a year ago talking every so often. Now, we are in love. Now, I cant imagine what I would do without you. I love when you tease me but you are always joking and I can see it in your eyes that you never once falter. I love when you wrap your arms around me and I am engulfed by your scent. Nothing else matters in the world when I lay my head on your shoulder and your arms are around me rubbing my back. I love how I can tell you so many things and am not afraid of being judged. I love how I can act my crazy self and you only love me more. I love you in so many ways that I can't possibly write down.

The minute you called my name it sent shivers down my spine. I knew you were the one I was supposed to be with. Just sitting next to you I had butterflies in my stomach. I hated what you did to me but I also loved the feeling of finally knowing that you liked me back. I was praying for that day when we went on the band trip to Boston. I wanted to make my move. On the dance floor you tapped me on the shoulder and asked me to dance. At that moment a slow song came on, I looked at you with big eyes and you grabbed my hand. I protested that I didn't know how to dance but you bent down and whispered in my ear to follow your feet. Your big hands were smothering my small hands. Your hands were shaking uncontrollably but all I was looking at was your feet. The song stopped and we looked into each other's eyes. My eyes were sparkling, and there was something in you I couldn't quite detect.

You led me off the dance floor still holding my hand to the hallway and made room for me to sit down. We talked and talked forever it seemed. My stomach was in knots but I couldn't take my eyes off of you. I didn't want to move when the chaperones told us to go back to our rooms; I wanted to sit in the hallway with you forever and a day. I gave you a hug goodbye and lingered there for a moment before I took off out of the lobby to the stairs. My friends ran with me up the stairs, I swear I was so high on life I took two stairs at a time. We ran down the hallway to our room and shut the door and all huddled around me sitting on the bed. Their beady eyes stared at me as they all said, "Spill, now!"

As I told them what happened I couldn't believe what I sounded like to myself. They all said I loved you but that was a preposterous thought back then. I remember getting out my cell phone and texting you not 10 minutes later, as silly as it seemed I wanted to thank you for the dance. I wanted you to know that I wouldn't want to be anywhere else at that moment. We were texting after that until 3 in the morning. My friends finally told me to shut up and go to bed because they didn't want to hear me laughing anymore. I resultantly told you that I had to go but not before you asked what room I was in. when I told you, you said to come outside that you were right down the hall. My friends and I ran to the door and opened it to find one of the chaperones looking at us with angry eyes. We shut the door as quickly as we opened it and ran back to bed. I texted you telling you all about it and you laughed. I didn't sleep that night.

The next morning everyone was eating breakfast, I wanted to know if I was a one night stand sort of thing but then you asked if I wanted to walk with you in the aquarium. My heart soared high up above the clouds. We must have walked the whole entire aquarium more than 10 times. I don't remember a time when I was smiling and laughing so much. We leaned in close to read the map together and bumped heads, I'll never forget that moment. I was blind as a bat and couldn't read the map since it was so dark in there so you decided to lend me a hand, but leant me a head instead. I didn't want the day to be over but the whole 6 hours back to New Jersey we didn't stop texting.

That night you claimed you were going to ask me out to my best friend. She told me, I couldn't sleep again that night. The next day I waited for you to ask me but you only texted me saying you needed to tell me something important. April third I wanted to know so bad that I just ran up to you and asked what you needed to ask me. I saw the look in your eyes that I caught you by surprise. You asked if I had a boyfriend, and if I wanted one. I was trying not to laugh by the silly way you asked me out, but my first answer was yes, yes, yes! We went our separate ways to our busses but not before catching one last glance.

I texted everyone immediately and they all said congrats, it was like I was getting married to you! The bus ride was bliss, all I could think about was what the hell just happened and what I got myself into but I knew with you by my side it would be fine.

The next day you asked to go see a movie that weekend, I was so nervous but you seemed so confident like you had done this a million times, which scared the heck out of me. I wanted to be the perfect girlfriend but you kept reassuring me that you only wanted every bit of weird aspect that was myself, you liked me for who I am not who I want to be. The next day I got sick and could not come into school, I felt so bad because I wanted to see you and I thought I was sending out mixed signals that I was embarrassed. However, I had a 102.6 fever that was getting higher. The moment school ended you texted me asking if I needed anything, I kindly said no and went back to sleep. Just knowing that you were on your way made my day suck a little less. You kept making me laugh even though I was in pain and so delirious by then. You gave me strength.

Through all the dates, all the laughter, all the tears, all the anger, we are still together and smiling. I am never more proud to say that you are my boyfriend of five months. You are my friend, companion, and boyfriend. I wouldn't want that any other way. When I am with you everything comes just so naturally, it feels like we are just friends who are super close and couldn't give a damn about what anyone says about us. I will never forget how you asked me out to the carnival that time, you sent me riddles, that was the best week I could ever ask for. Even though you weren't in school I still felt you were with me. Thank you for showing me what it feels like to love again, to trust, and to laugh from the heart. I haven't felt that way for a long time, until you showed up in my life.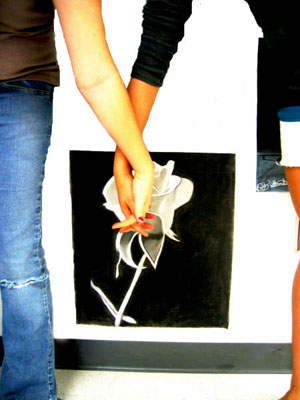 © Josie G., Wilmot, SD