Heartbeat
July 22, 2012
I wonder: why is it, at the end of every chapter of our lives, whether it be a school year, a job, a living arrangement, or a trip, we always look back to the beginning? Do we hope to find some sort of closure from the nest from which we have flown? Or maybe it's the whole sensation that, at the beginning of whatever chapter, we had to exit and enter a new threshold to get there. For me, it's probably the latter. I cling onto these memories, desperately trying to predict what it will be like, what to expect, what I will feel when I start this new adventure – I hate it when my feelings catch me off-guard.

Yearbooks, diplomas, farewells, conciliatory hugs…all the customary things associated with a threshold – graduation, in this case. I used to wonder: what was the purpose of all of these actions? Yearbooks will be shoved away and left untouched on a dusty shelf for decades. Diplomas and certificates will start to yellow and wither around the edges, losing composure and with it, their meaning. But the one thing that did not fit into my evolutionary almanac were the hugs. I thought the warmth that enveloped me from them would fade as life moved forward. It didn't. Hugs seemed to exist in a dimension that stretched outside of the moment...and yet, a moment is all they needed to remind you of their occasion. I began to realize that time wasn't the real culprit here. Time was not really the one who layered the beaches of dust atop the yearbooks, nor were the fancy looking diplomas under attack from oxidization. It's us – it's me. Whether I choose to preserve those memories is a choice that is completely mine.

Not that I'm graduating this year, but I think that the ending to anything will be bittersweet. No matter how rough or trying the period has been, we have lived through it and, guaranteed, there will be happy memories. Our picture albums will be overflowing with fresh tears: some we may wish to forget, others that ring of unrestrained laughter and smiles.

Goals: the traditional question posed when looking back. Have I achieved my goals? I couldn't answer, to be honest...have I? I don't even remember what my goals were when I started high school. Survive, probably. I feel as though I have done that. One of my greatest self-imposed missions was to leave a mark wherever I went. In each class that I attended throughout the years, I promised myself that I would leave some sort of impression, some kind of permanent footprint that stamped my presence as a memorable one. I can only hope that this tread doesn't fade like the way my past memorabilia did.

As for the future, it seems as though a million little pathways have branched out in front of me. All of these different possibilities seem to be calling for me, each one luring me with promises of success and personal gratification. The scary part? Once I choose a road, I can never go back – or, at least, that's what it feels like. Barriers of dollar signs and time keep me accelerating at an alarming rate, even if where I'm headed is over the top of a jagged cliff. All these factors can be extremely overwhelming – especially for a driver as new as myself.

One thing I never want to lose, one thing I never want anyone to lose, is the impact that my writing has left. I spoke earlier of wanting to place a little reminder of myself in each of my classes, and it's true – I do want that, but what I really wish for is the ever-lasting imprint that has come with my voice. Words are a powerful tool; they have the ability to change people and to plant that seed of wonder in their minds. I hope that my words have changed someone – I know that they have certainly changed me.

Many of us will be embarking on a new, uncharted terrain after these next few months. We will be scared, excited, quivering in suspense...but above all, we will be ready. Whether we know it or not, we are prepared for whatever comes next our way. This is a lesson that has been taught to me over and over, and now I am sure of its conviction. So I ask you, as is tradition, before you step through that red velvet curtain, that florally laced threshold, to join me by returning to the past and remembering. Remember each others' carefully scripted signatures in your yearbooks, remember your first fall, your first scrape, and how you never thought it would get better. Never forget. Traverse back through your memory further – as far as you can go. Beyond elementary school, beyond Kindergarten. Before the times where you were running and hopping about, and before you took your first step. Go back earlier than your first word, and all the way back to when all you were, all you represented, was a single, steady heartbeat.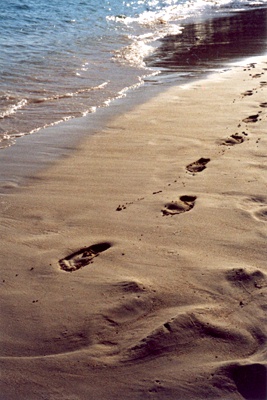 © Ashley B., Potomac, MD