The Statue Girl
January 23, 2012
She bowed her head, her arms held gracefully out from her sides. In her right hand she daintily holds a flower blossom; in her left hand is a slender bouquet. The gentle wash of the dwindling summer sun caused soft, but defined shadows to play over her marble-white dress. Her kind, stone eyes gaze uncomprehendingly at the prickly grass.
She can neither see the browning grass at her base, nor the thunderclouds threatening to block the sun's rays. She cannot smell the sweet smell of the coming autumn. The sounds of the breeze in the trees, the crickets in the tall grass by the pond nearby, or the soft snapping of the flags flapping in the wind high on their proud pole do not resonate in her ear. When the breeze brushes her face, she doesn't feel it.
She is stationary in a fast-moving world around her. She is an unknowing bystander of the controversies of the universe. She knows not of the love of families and community. She sits eternally on her cold stone stand, watching the going-ons about her.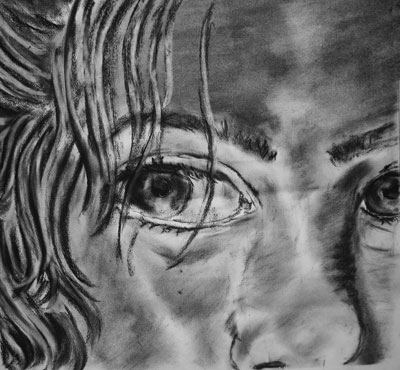 © Brooke W., Weston, MA