Out of Guilt Or Out of The Way
December 15, 2011
"Birth defects don't kill." Don't they? What about Jori Lirette? What happened to him?
But no one cares. I doubt you even want to hear this story, I doubt that you will even listen; I doubt you will even care. No one does. Expect for his mom--Jesslyn Lirette; who loved Jori with all her heart and called him her star-- certainly not his dad.
Why would Jeremiah Wright the 30 year old burly biological father care for his only son? Why would anyone take the time to tend to the needy cerebral palsy victim at birth, wheelchair bound 7 year old with a smile that just proves he is in for the fight? Is that enough to kill him for? Only for a sick twisted mind of a mad man. Without the ability to communicate with words, understanding just becomes a hassle for the kind of man Wright is.
I can't blame him I mean he was soooooo busy with being unemployed and all. But hey; Wright took care of Jori for 7 years. Isn't that enough?
Let's go back just about a month before the killing. Just imagine; it's July in the not so small town of Thibodaux, Louisiana. Where the elevation is 13 ft. and a population of just over 14,000, the temperature is reaching a high of 91 every day. Police are called to the scene where a domestic disturbance is taking place.
Jeremiah Wright and girlfriend Jesslyn Lirette are arguing. The subject: Jori. Wright wants to put Jori out of his misery; he felt "guilty". Did he really care? No one does. The fight didn't get physical so police left without any further investigation.
One month later. It was an ordinary Sunday. The sun was shining; people were mingling outside a local church in-between services.
But For Wright; it was the day he would make his worst mistake. They say that he heard voices. They say he had a mental breakdown. They say he was just a heartless man. I say he was getting rid of something that he was tired of.
The previous night the happy couple had been fighting again. This time there were death threats.
That morning Jesslyn left her beloved Jori home with Wright and took the truck to get fixed up so she could take Jori to the doctors on Monday. She had good intentions, but they were not rewarded with good results. Too bad that was the last time she would see her shining star in one piece.
As soon as the proud mom was out of sight Wright got to work.
He first beat Jori with a bludgeon. Wright didn't have to worry about others hearing this treachery being done because Jori had difficulty speaking or making noises.
Wright then continued with the torture. He stuck Jori over the kitchen sink and hacked him apart. Like he was some kind of animal, like he was fresh meat being chopped up to be cooked for dinner. I think that this cold hearted man was doing it just for the fun. He decapitated and dismembered the poor boy. Off went his head and along with it went both feet and one of his hands.
It didn't stop there. Jori's body was stuffed into a trash bag and set outside the home. Jori's head was set aside though; it was then placed on the sidewalk next to the trash bag.
Wright states that his intentions were clear; Jori was a pain to take care of. He was tired of it.
When police arrived to the crime scene Wright was sitting on the front porch calm as a summer breeze. No remorse. No sadness. Not even a hint of sorrow. Real good role model right?He did try to cover up by saying Jori's head was the one of a CPR dummy; shortly after he confessed.
So now Wright is sitting in a jail cell awaiting his trial. He is charged with first degree murder. When, he is convicted, he will face a life in prison or even possibly a death sentence. I believe that Wright got what he deserved. He killed an innocent, defenseless boy; now he can take a sip of his own medicine.
So, now as Wright is sitting on a $5 million dollar bond I look at the other side of this.
Wright- the man who killed his son to put him out of his misery. He was doing what he though was better for the boy. The one who cared enough not to make him suffer.
Jesslyn Lirette- the woman who let her son suffer, the one who left her son home alone with the man who gave possible death threats and not just once but multiple times told her he was going to kill Jori.
Then as we eagerly wait for the trail that seems to only have one outcome I think about Jori. He, like so many others with birth defects were not given a chance and I wonder could maybe this one justice change the way people think? Could it put an end to this kind of sickening abuse?
How about we go to the small makeshift memorial outside the Lirette home and ask Jori about how birth defects do kill.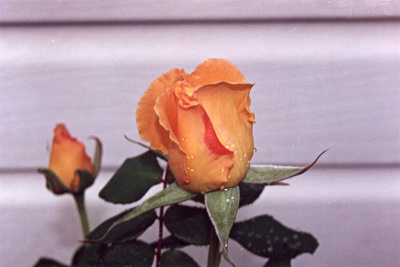 © Jamie U., West Hempstead, NY