Why Do People Get So Mad When They Hear Jesus Talk
November 29, 2011
Why do people get so mad when they hear Jesus Talk? I just don't understand why they get so mad when they hear something about Jesus. It kind of makes me scared to even openly talk about Jesus in the public schools because all they do is scream at you and say Jesus not real; the bible is full of fairytales and bull. What???? I wonder to myself have any of these kids picked up the book and read it?
I can understand that some people just don't want to hear something about Jesus and how he loves us so much which is called unconditional love. Cause I once didn't want to hear because the person who kept speaking the word of God in my opinion was a total hypocrite, and this person was my dad.
Reasoning they don't want to hear it because all they see is bible beaters who called themselves Christians. Well I'm the type of Christian who is not part of any domination I'm just Christian. I just don't believe in shoving a bible in people faces. It doesn't draw people to Christ. For I witness this and was also the victim of this. It happened recently, my friend Tejah and I was walking up to the youth area when we got stop in our tracks by the youth Pastor. And me and him have some major differences and I certainly do not like him one bit. But when we got up there he rudely ask us where we are supposed to be. Right then in there I really did not want to go to my class. "Oh I'm sorry I thought we were allowed to be up here with no type of authorization or rudeness from the youth pastor telling us where we are supposed to be. " I thought in my head. No hi or how are you or anything. I thought you are supposed to want us to come up here and learn something. That's when we decided to just go back downstairs to our parents who were in the the 11:30 service. Oh did I mention he followed us all the way downstairs to see where we were going. I'm not trying to make a case or anything just trying to make a point on how people don't like to come to church because people like him.
But anyways I can understand why some kids don't want to hear any of the things us Christians have to say. Most Christians just say oh we are saved so we can do whatever we want to do. No, sorry it doesn't work that way. Are you in the Kingdom of God or are you part of the world. You can't have one foot in his Kingdom and one foot out.
But all of this saying I still don't like to be yelled at when I try to share the gospel with my classmates. What am I supposed to do yell at them and tell them they're going to hell if they don't listen what I have to say. NOOOO I'm not that type of Christian.
Well can someone explain to me why people are like this way or did I already answer my question.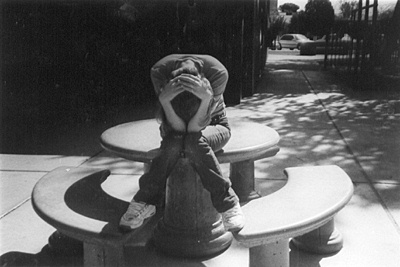 © Catherine R., Phoenix, AZ