Afraid
November 30, 2011
I wake up every morning throw some random outfit on and look into the mirror. My dad raises his voice when he tells me to finish getting ready and within the next few minutes I'm in the car.
"Sleep well?" he asks.
"Good,as usual," I say hoping he won't notice the circles under my eyes and the tired look on my face. We turn onto River Ave. and stop in front of Courtney Morrison's house. Every morning we make this stop to pick her up for school.
I walk up to the door and knock three times, someone shouts "Come in!". I open the door enough for me to enter and I see Courtney rushing frantically about the house. She rushes to brush her tangled hair as I take in the smell of fresh baked cookies. Her house always smelled like that. It always looked lived in, never freakishly clean.
"I'm ready," She says and we walk out the paint chipped door into the cold snow. We open the truck door and get in the crowded interior. We turn around and head toward the elementary to catch the bus to the high school.
Once there we get out of the vehicle and head to our bus stops. I go inside the school so i don't freeze and stand there waiting. When the bright yellow bus pulls up everyone rushes outside to get on and claim their seat. Then the bus drives off at 7:20 a.m..
I stay silent the whole way there and I stare out the window. The trees and houses passing by are just a blur unable to be described.
The bus pulls up at the high school around 7:35 a.m.. I walk into the poorly lit lobby and go to my locker.
As I walk through the hallways I can hear people whisper. I know they're talking about me. Some even dare to laugh. I put on the same forced smile I use everyday and go to class hoping the teachers won't ask what's wrong. I sit in my desk and ask myself why I don't do something about it. I don't because I'm afraid. Afraid it will get worse.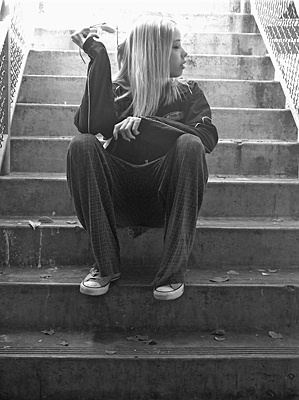 © James M, Walnut Creek, CA