Blind Composition
November 6, 2011
I envy the blind man who cannot see, for it is in his mind where paradise truly holds a natural existence. It's not that within the sound barrier around his ears he fails to understand tragedy. More so, it is that he can not see the corruption amongst his fellow man. He sees with the sole pounding vessel inside of his chest. It is his heart that pulls him in a direction of sincerity as opposed to the shallow trail of vanity that his loss of sight has directed away from him. He is as innocent as a naked babe, untouched by socialization due to his deformity. He views the world in a lens entirely unique and of his own. This dysfunction in his eyes is seen as more of a gift rather than a misfortune. However, he has yet to realize the torch he carries, or the power he bestows by being able to see the true colours exposed around him.
The blind man can see it all for he trusts cautiously, hopes discreetly, and befriends easily. He will not, or in his case can not, judge based on physical expectations. With him, it's not about the shade of blue in your eyes or who stands at your side. He instead bases his opinion on the kindness in your tone, the soft caress of your touch, and the beauty within your soul. Calloused hand or broken heart he can see you for exactly who you are.
Who wouldn't envy a man who sees the beauty within us all, as a whole and individually? He ignores the exploitation of the world and each of its untamed flaws. It is he I envy, it is he I idolize. For wouldn't it be great, to spend a day completely blind to everything wrong with our world and spend the remaining moments in a utopian globe of perfection. No flaw, no fault, just pure unaltered beauty.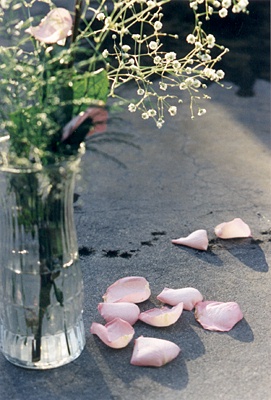 © Kathleen S., Maumee, OH