Top 10 Fun Things to do in fall
October 28, 2011
1.
Carve pumpkins.
Carving pumpkins is fun way to spend time with your family and it is a great decoration.
2.
Jump in the leaves.
Rake your yard, or your very thankful neighbor's yard into a giant pile of leaves and then leap inside. This works better with friends, and even better than that with a dog.
3.
Plan a Halloween party.
Halloween parties are always extra wild because costumes and masks make people feel free and open to wear whatever they want. Planning an event is almost as much fun as throwing an event, so get started now to get the most fun out of your party.
4.
Learn to cook a signature stew.
Autumn is the perfect time for comfort food and warm dishes. Stews and soups are fun to make and will fragrance your home all day long. Experiment on a few recipes until you find your favorite, and then serve it up to hungry friends with warm biscuits or cornbread.
5.
Go to a football game.
The sound of drums, the smell of fresh-cut gridiron and the taste of game nachos will take you back to a great time. Root for your favorite team, or just pick the underdog and go for the win.
6.
Go apple picking.
Get together some friends who aren't afraid of a little dorky fun, and hit up the local orchard. Finish your night off with apple cider and some hot apple pie, make it from scratch or buy one from the grocery store.
7.
Hitting up a Haunted House.
Going to a local haunted house is a great way to spend time with your friends, and it is a great time to take a video camera to catch your friends freaking out at a "little scare".
8.
Go Trick or Treating.
Trick or Treating is a great way to let your kids have a great time and get a lot of candy but be aware if they eat too much candy you are in for LONG night.

9.
Have a Hayride.
Having a hayride is one way to let everyone have a blast at a party and you can meet a lot of new people on the way just make sure you're on a safe rode where there is no chance of getting hit.
10.
Go on a trip.
Going on a trip one weekend can let you and your kids unwind from school and work and let you have some fun while you relax.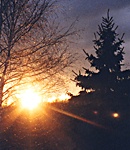 © Christy S., Germantown, NY