Habere
August 17, 2011
I love you, so I'm just gonna say it. It should be easy, right? People do it every second of every day all over the world. I suck at math, but it seems like that's a lot of publicity for three little words. There are movies centered around the idea. Songs written for the simple purpose of saying it over and over to their special someone. People say it in the bedroom. Before the leave to go to work. Sign language has developed a simple three-fingered gesture. It's the road to conception of beautiful children, whether they were planned or not. It's in holy Scripture, for Pete's sake. I like Scripture. We like Scripture. Heck, so does the Easter bunny. (Chocolate eggs have to be the ultimate symbol of a furry creature's knowledge of true love.) That should be reason enough, right there. So I'm going to say it. Are you ready? Be listening for it.
I l—
Give me a second.

What if I hurt you again? I don't know if you've forgotten or not, but I did. It seems like so long ago. It seems like we were just children then. The way you look at me, you would think I never broke your heart. I'm not going to lie. It felt like freedom for a few weeks after. But at the end of it, I wanted to share my freedom with you. I could go anywhere in the world, and it still felt like solitary confinement. It's not a blessing for you to be back - at least, not for you.
I lo—

Don't you know that you deserve better than me? If you haven't forgotten how I ran out, then you've at least forgiven me. But I haven't even forgiven myself. Your love is like holy water burning on my forehead. I could do the dramatic thing and say you're better off without me then leave again. The first part may be true, but I can't leave you until you decide to agree with me. Am I a bad person for hoping you never come to your senses about me?
I lov-

Maybe I'm being stupid. I can't let my fears hold me back. What am I rambling about? I'm just being silly. Listen to me. Scratch that - don't listen to me. I can take you telling me I'm wrong, because I usually am. It's those beautiful words that come out of your mouth that hit me out of nowhere – that I don't deserve– that throw me off a little bit. You must see something, right? If I looked for the answers in your eyes, I'd forget what I started for and get distracted. So perhaps I should just let it be. I don't need answers. I need you.
I love –

I love the way you laugh. I love the way you're not afraid to wear your heart on your sleeve. I love that your four shades darker than me and make me look like the color of loose leaf paper. I love that you're at least six inches taller than me, even if you are almost three years younger. I love how your eyes shine when you smile. I love the way you seem to think you have to impress me, because that's the biggest joke I've ever heard. I love the way you love your grandmother, because it shows me the man you really are. I love that you're like no one else on the planet in my eyes, and knowing that you're only gonna get better – if that's even possible.
You.
I love you.
And that's all I know right now.
And I hope that's enough.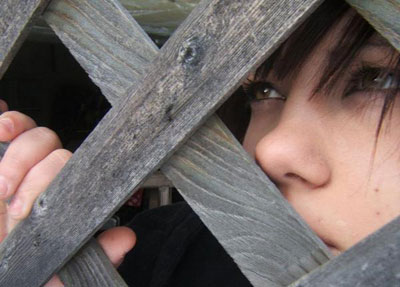 © Krystal B., Bloomingdale, IL