A Walk in my Shoes
May 15, 2011
The greatest summer of my life started with a pair of shoes. They were water shoes, the kind you wear on rocks so you wont slip. Until my summer in Florida I would have never imagined wearing ugly shoes like that, but of course at first, I had no choice. My life at that time was not headed in the right direction. I got into a lot of trouble, ditched school on a regular basis, and had even been arrested for drinking and driving. I had disappointed a lot of people by the way I turned out, especially my parents. After picking me up at the police station, they decided that a summer away from my home in New York City might be good for me. When they sat me down and told me " Danielle, you will be spending the summer in Palm Beach working for your grandmother to give you time to straighten out your priorities," I knew they hoped I would maybe have an epiphany and decide to change they way I was acting. Of course I was resentful, but deep down I really wanted to re-invent myself before college.

Palm beach was a small town in Florida that I had visited every year until I was twelve, but had refused to go back since. It was just as I remembered it, and so was my grandmother. Although she was understanding of my situation, she did not hesitate to make me start working. When I got off the plane she presented me with the water shoes and told me my summer would be spent wearing them. My grandmother was the manager at an aquatic wildlife aquarium and conservation that specialized in the research of many animals that lived on the coral reefs. She also helped nurse injured animals back to health. I would do jobs like cleaning the fish tanks and feeding the animals. As much as I hated working, I did love animals, especially fish. My first day working almost felt like the first day of school. All the other employees had heard about me and how I had been arrested, so I wasn't exactly welcomed. I succeeded in ignoring most of the glares and focused on the animals. I had always loved the ocean even when I was little, and being away from it for so long made me realize how much I missed it. In the first couple days of working I had learned more about the fish and other animals then I had in years of science class.
One day during my second week in Palm Beach I was introduced to a girl my age that was a volunteer at the aquarium. I knew my grandmother was hoping I would become friends with her, but I could tell she was nothing like me. Her name was Brooke Johnson. She was an honor student, loved community service, and was nice to everybody. I usually hate people like that. I succeeded in ignoring her for the first couple days, until my grandmother forced us to clean the dolphin tank together, that was when I knew I would have to socialize. So I asked her some questions about her school, friends, and other random topics. She was shy, and the complete opposite of me. The only time I could get her to say more than five words was when I asked her what her favorite thing about the ocean was. Turns out she really loves sea animals. She devoted all her free time to volunteering here and learning more about coral reefs. She told she wants to be a marine biologist, a career I had never really thought of , considering I live in New York. Brooke's love of the ocean really changed my view about my stay in Florida.

Walking on the beach one day, I decided I wanted to learn more about aquatic animals, so I asked Brooke to tell me everything she knew. All she asked for in return was that I teach her how to swim. That was when our amazing friendship began. I spent everyday for the next month with Brooke. While we were working she would tell me facts about all the fish and other animals , then at night when the aquarium closed we would sneak into the dolphin tank for swimming lessons. Even though Brooke had always loved the ocean, she was still scared of swimming, so we did not make much progress. I found it amazing how close we became. We proved that even people who are nothing alike can find common interest and build a close relationship upon it.

When the time came for me to return to New York, I really didn't want to leave. I would miss the ocean and the aquarium, but most of all I would miss Brooke. She would be attending the university of Miami for Marine Biology so we decided to keep in touch. My last night in Palm Beach I was woken up by my grandmothers voice on the phone. Her voice worried me so I went downstairs. When she saw me she started to cry and hug me, that's when I knew something was wrong. She told me Brooke had drown in the dolphin tank when she was supposed to be feeding them. She was still not a great swimmer even though I taught her everything I knew. I couldn't believe what was happening. The nicest girl I had ever met with the most promising future was dead. I stayed in Florida for a couple more days to go to her funeral and say my goodbyes, then I flew back home to New York

Since Brooke's death my life has been moving very fast. Because of Brooke's inspiration I got into The University of Miami and majored in marine biology. After I graduated top of my class, I set up a charity group called the Brooke Johnson Organization. The group specialized in raising money for aquariums and conservations like the one me and Brooke worked at. If it wasn't for Brooke who knows where I would have ended up. Her kindness and love of the ocean inspired me to devote my life to marine animal research. Four years after my summer in Palm Beach, I returned to the aquarium that gave me many happy and sad memories. I saw a little girl looking fondly at the dolphins and decided it was time to give up my shoes. I went over to speak to her and found out all she wants to be is a marine biologist. I gave her the shoes and said " Then you will need these." Those ugly water shoes were given to me in hope that I would change my ways. Brooke helped me to figure out my life, and I would not be where I am today without her. I hope that those shoes will affect that little girl just as they have affected me.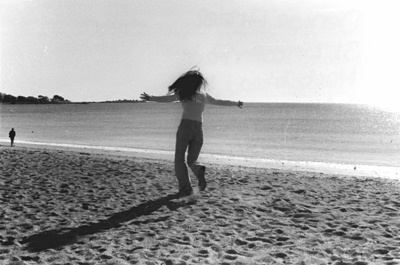 © Denise A., Marblehead, MA