How To Have Hope: The Beginners Guide for Moving Forward
April 21, 2011
Alone in the darkness is the last place where anyone wants to be. You've suffered a terrible loss and are moving downhill extremely fast. Feeling as though happiness and all light are gone, you've given up the person you once were. I've been there. I felt alone. I fell into the darkness. I looked up, and I moved forward. Now, its time for you to look up, and it's time for you to have hope.

The person loved and lost will always be with you in your heart. As corny as that may sound, it's very true. The lost will never be forgotten. Even though that someone won't physically be there, their spirit will always remain with you.

Now, you need to look up. Physically look up; it will guide you to the next steps in moving forward. Everyone looks down when they are sad, so this step will brighten the mood. You can't move forward with your head scanning the ground. There is nothing there but your own shoes.

I looked down for a long time until I realized that my lost one would want me to look up. My loss, Kenneth Fantl, would want me to move forward. Just because his life was put to a halt doesn't mean mine should be too. If I kept scanning the ground all the time, great opportunities would pass me by.

Be with your family and friends. Do not spend your whole day alone in your bed; it will torture you from the inside out. You will be dragged away from the life you are living. Enjoy a feast with the friends. Try going out to eat with them because chances are, you haven't eaten a thing since the loss.

Because of Kenny's death, I stayed in my room and wept for the longest time. My friends noticed notices I wasn't talkative and just wasn't myself. I kept my head low until it hit me; my lost one would defiantly not want this.

I'm sure you haven't smiled in a long while. Watch the comedy, The Hangove,r with your friends or go out and see a local comedian. In order to be happy, you have to smile and laugh again like you used to. Those lost would want you to be happy and have fun.
Finally leaving my bat cave, I went to a friend's house. We watched whatever was on Comedy Central for a few hours and it brightened my mood. After that, most of the sadness went away. I finally realized that moving on was what I needed to do.

Don't forget the one you loved and lost; that's impossible, but let go of the loss. You can't move forward without letting go. Let go of the sadness. Let go of the fear. Let go and move forward.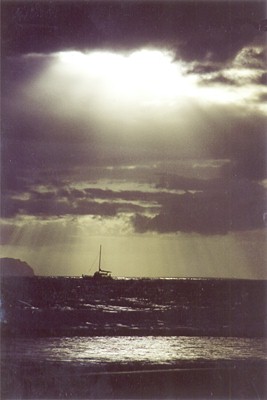 © Lily H., Kekaha, HI