Sakura Nights: Part 10
April 18, 2011
A figure arose from the concrete pavements endraped in gold markings. Its face was enclosed with a red wooden mask that oozed gun powder and its body was a cloak of darkness that puffed around Kimiko and Akane. Akane pushed Kimko behind him, "I'll tell you when to come in!" The figure smashed the concrete and shook the ground beneath them. Kimiko froze and nodded at Akane. "YAHHHHH!" Akane went in for attack number one with flames that engulfed his body to burn the enemy in its tracks. The figure illuminated a protective covering and used his attack against him, causing his body to fall as he skidded across the sidewalk. Akane grits his teeth and sneers at the figure then looks towards Kimiko, "This!..." The figure tosses another copied flame from its body and laughs with its chattering teeth. Akane dodges and rolls closer to a trashcan nearby. "THIS IS REBURU NAMASTE, 1ST ANCIENT BEAST OF DARKNESS! MAN'S OLD AND MEEEEEAN AS..." A fireball launches towards the trashcan as Akane flips its top open for protection. Akane grits his teeth again, "Using my tricks I see, well try THIS!!!" Akane dissapears, confusing the figure, and stands in front of him. "Pakitu...Namu...FLITIKK!!!!!" Akane prays and draws his sword from his back pocket. The radiance of it gleams a new silver lining up with the moon. Energy draws from it combining faster...faster...and faster..."BOOOM!" the blade crashes into the figure in fury. Kimiko's arms are raised to keep dust from her eyes, "Oh..." she exlaims. Akane does a backflip and winks at Kimiko. "See nothing..." An earthquake erupts. "Huh?!" Akane turns around and the figure becomes more massive then before. "No..." he says. "Reburu Namaste is not defeated..." "Ok buddy, it's my turn!" Kimiko smiles and jumps in front of Akane.
Kimiko raises her Kitsune sword and traces a pale heart into the concrete. Reburu Namaste creeps further towards her nimble body. A huge magenta light erupts from the pale heart transforming Kimiko into an angel again, this time taking on another form. A fox dances in the pink and yellow light and howls to the moon while half of Kimiko's hair is braided into a long flowing ponytail of red and takes on an ancient aztech indian outfit etching into her body. The fox stares into her eyes and puts two blue paint markings under her eyes. Kimiko's sword gleams with tan feathers and beads of magnetic power filling its inner core, shes ready for battle. The fox stands beside her and growls loudly at the figure, bearing its razor sharp teeth. Reburu Namaste croaks with the gun powder ooze and takes a long claw to attack the huge fox. Akane looks forward, "Its one of your gaurdians, the mystic fox! If you need defense he will help you!" Kimiko nods, and puts her hands in a prayer like stance, releasing light energy towards the figure. Reburu Namaste angrily pounds the ground with its claw-like fists and charges. The reddened fox springs on all fours and charges back, clashing both paws into its belly. Reburu Namaste cries out, slashing the fox's right leg. Kimiko hurridly springs into action and draws her sword to peirce its lungs to finish it off. The figure unhandles the fox, and looks towards the nightime sky. Glitter surrounds it, relfecting light into its skin until it bursts into a million black crystals in the wind carrying its darkness away forever. Kimiko wipes the sweat of her brow and adjusts her red ponytail. "That...was...AWESOME!!!!" she claps in happiness as she transforms back. Akane narrows his eyes, "Um, YEAH but we have a problem..." The mystic fox licks its wound, and howls in pain. Kimiko scans the fox, then stares at her left hand where she carried her sword. A burn is etched into her skin in the shape of crescent moon. She bites her lip and squints at the pain then puts her hand over the fox's wound. "Maby I can heal him..." she says. Akane watches intentily as his student progressed naturally. KImiko responded,"Akane, how does that song go again?"



Akanes eyes fill with red tears.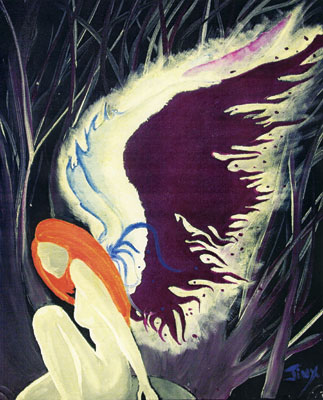 © Megan B., Youngstown, OH