Not Enough Sugar?
March 3, 2011
Does a drink with chunks of celery, chard, spinach, cucumbers, lettuce, and broccoli sound appetizing and delicious? When I think of a healthy drink I think of milk, juice, or a nice glass of lemon water, not one filled with ingredients of vegetables that most people wouldn't enjoy eating when not blended together.
Apparently not everyone thinks that celery and cucumbers blended together is unnecessary and unpleasant. I have come across multiple mothers who go on what they call a "sugar free" or "green drink" diet. When I say "sugar free", I don't mean not eating candy bars and that's it. These Organic Overloaders go without natural sugars too! I do recall there being a sugars, fats, and oils section on the health pyramid, even if it is very small compared to the other food groups.
I recently went to a super bowl party where there were many cookies, pies, and brownies. I watched one 31 year old lady, who I knew really well, eat 4 desserts. Joking around I said
"You like those cookies. Huh?"
At first she had a look of guilt on her face. That quickly changed though as she justified herself saying,
"Well I have only had a green drink for breakfast and lunch."
. . . What!!! Doesn't that defeat the whole purpose of a "diet"? Consuming a glass of blended vegetables and 4 cookies is not a day filled with delicious nutrients that are required to give you energy to fulfill a day full of responsibilities. Obtaining these health habits could hurt them in the long run by slowing down their metabolism.
It is one thing to choose this dietary habit for ourselves, but forcing our children and even our spouses to follow these health guidelines doesn't seem right. I sure wouldn't like my mom on Halloween night if my friends have Skittles and Hershey bars in their buckets while I have organic gum drops and carrot sticks in mine. I know a mother in my neighborhood who has forced this regimen upon her whole household. She doesn't know that all of her kids have secret stashes of treats in their desks at school. What is the purpose of depriving kids from treats when they are just going to sneak it anyway?
So all you Sugar Slashers, instead of causing hard feelings with our loved ones, we should instead encourage a well balanced diet on ourselves and our families. It is healthier anyway to have the right amount of each food group in our diet. Families would be closer, more loving, and healthier.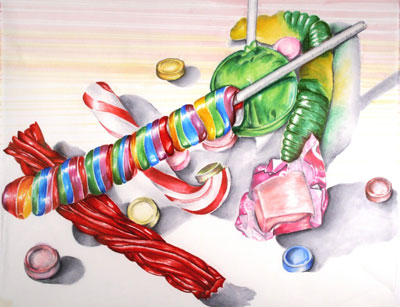 © Jamie B., Fairport, NY