Due Date
January 27, 2011
My review is on the comedy Due Date. This movie is directed by Todd Phillips. The leading actors in this film are Robert Downey Jr., Zach Galifianakis, and Michelle Monaghan. This movie is about a man named Peter, played by Robert Downey Jr., who is a soon to be dad and how he get gets kicked off a plane and has to be home in less than one week or else he will miss the birth of his first child.

The reason he cannot fly back to Los Angeles is because earlier that morning when he got dropped off at the airport he gets his things knocked down by a man named Ethan Tremblay, played by Zach Galifianakis, and then runs into him again on the same plane, they get into an argument and Peter isn't paying attention so he doesn't shut off his phone. Ethan tells him to turn it off because that's how terrorist can communicate and bomb places. On the plane there happens to be a man who is a like a veteran and he gets upset because they're arguing and they're using words like terrorist and bombing on airplane grounds. He gets mad and gets up and shots Peter…but with a rubber bullet. He is knocked out cold and when he wakes up he is off the plane in a flying office. They tell him he cannot fly.

He and Ethan are both on the no fly list and travel together back to Los Angeles and many things happening along the way. Like when they took the wrong turn and ended up in Mexico. Ethan happens to escape, but Peter isn't so lucky. He gets taken in by the border patrol and then Ethan very bravely hijacks the little camper he's in and they break out. Shortly after, Ethan accidently shoots Peter in the leg. He doesn't want any medical attention because he wants to get to the hospital. They make it just in time to the hospital as she's in labor.

I thought that this movie overall was a great movie, its rated R, which is a good thing because some scenes are disgusting and kids under 13 shouldn't see it. The movie is hilarious. Everyone in the theatre was laughing and having a good time. I like this movie because it seems as if they didn't even have a script in their hands 5 or 6 months ago. I suggest people that people should go see this movie, if you want to laugh.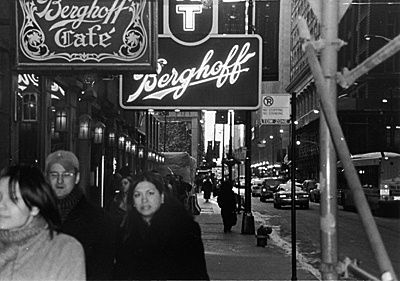 © Julie J., Mendham, NJ