Big Teeth
December 2, 2010
It happened when I was just about 10 years old. It was the time of year where I head up to my grandpa's and grandma's. My grandpa had broken his back and could not get off the couch to do many of my favorite activities like fishing, wading the river, catching frogs, and getting up early to go to our favorite fishing spot and spending all morning out there.

When I was up there and saw the beautiful woods and lake, I took action. My grandma was not really into the wilderness/outdoor activities as much as I am. So we went to the trading post and bought her a fishing license.

Since neither me or her could pull up the motor in the big boat, we improvised. We loaded up the paddle boat with our net tackle box and rod (She was manning the net.)

After about 10-15 minutes, I had hooked a big one (at least 10lb). I told my grandma that I was bringing the fish to the right side.

When she saw the pike's huge teeth, she lost it. She refused to grab it with the net, and it quickly swam away. I bawled! That was the biggest fish I had ever caught in my long 4 fishing years.

She felt terrible and started to paddle home. I stopped her and forgave her. After not much longer, I hooked a 5 pounder. Very quickly all my tears where gone. Then we paddled home with smiles on our faces to a very jealous grandpa.

Every night from then on out, me and my grandma would head out to the swimming platform, and I would teach her how to fish (I had to put the worms on though.) Every once in awhile, we would travel out in the fishing boat to that same spot, and we would always catch a big pike.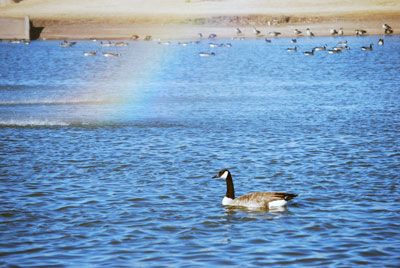 © Ashley N., Lubbock, TX