Stage
November 3, 2010
The stage can be a relentless place or a safe harbor. I know from experience that when you are on stage, you are on the line. The stage can do you no favors. But what can happen on the stage is magical. If you have the right moments, actors, lighting and script what occurs is something that even the greatest writers can't describe.
The stage can show off your errors and your nervousness, or it can transform you into something you never saw yourself as. It can transfix even the old men in the back, who are half way asleep, if you see the true beauty in a person standing in the light, portraying a character heartbreakingly honest.
When I go to a theatre, the first thing I see is the stage framed by the proscenium arch, making the stage look like a picture. As the lights go down and the overture starts, I wait for the flutter of excitement that comes with the music. If the show is done right, it will draw me in, capturing me until intermission. The second act begins and it continues to supply entertainment. Before I realize it, it is time for bows and I enjoy seeing the pleasure on the actors faces when the audience applauses.

From an actor or actresses' view it is different. You must arrive early to put on the stage makeup that sometimes feels like glue, as you smear it on your face. Then warm up, check you mike if you have one, review your lines in your head, as you pull on your costume. A stagehand may poke their head in the dressing room to tell you that people are here or that you have only five minutes to places. You check you makeup, and costume to make sure you look alright. Then someone calls places and everyone rushes all at once, buzzing with nervousness and excitement. You hear everyone whisper 'break a leg'. Sometimes your nervousness blocks out peoples wishes and all you can hear is the audience. As you get into place, behind the curtain, or off stage you take a deep breath or say a prayer, then the overture starts. At that point you probably feel like throwing up, especially if it is opening night. But before you can dwell on that fact, the show starts and you throw yourself into your acting. Before long, if you can, you become one with your character, forgetting that an audience is watching you, save laughter and applauses. All too soon, it is intermission. You gulp down some water to quench the thirst and recheck your makeup, which unless you have sweated it off, is still as you first put it, then the second act begins. This time, it is over in a blink of an eye, and the stagehands are soon calling for bows. Nothing can come close to the feeling of people applauding for you. Every once in a while, you may have portrayed your character so well, the audience awards you by standing up. That is where the cue for you to bow, and smile like a winner of the Miss America Pageant.There is nothing in the world I can imagine getting tired of. Being an actress allows me to be someone else, sometimes entirely unlike myself. Even through the rehearsing, memorizing lines, aching feet from learning dances and nervousness, there is nothing more rewarding than standing on a stage for a full house, then hearing the roar of applause. That's why "There's no business like show business".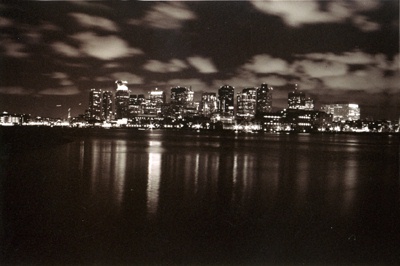 © Hoang P., Rochester, NY