Private Pew
July 7, 2010
At church, he sits alone. A small man with neatly combed grey hair, immense glasses that overwhelm his square face. An over sized coat on, in spring. With closed eyes he hunches over a long empty pew, seeming even longer and emptier with only him on it. Whether his eyes are closed because he is sleeping or praying, I don't know. The pew could swallow him up at any moment. No one would notice. He's just a speck on it's horizon. All the other pews are full and full of noise. They all buzz with whispers from couples and friends, little girls talking to their stuffed animals, the crunch of cheerios, babies crying out to their mothers. Then suddenly singing erupts from everyone like a volcanoe, bouncing off the walls covering up all the buzz.
He still sits quietly standing out in his long pew. He tries to hide behind his large square glasses until it's time to go back home. Nobody notices when he leaves.
At home, he sits alone. He didn't used to. He once had a wife. They went to church every Sunday. They sat in a full pew being part of the buzz and didn't leave until everyone else had left. He made her breakfast while she slept. She made his dinner while he read. Some days they went out to eat at their favourite restaurant. Every time they shared the same dish. They talked about memories from when they were younger, smiling back on the old times. She would laugh loudly as she remembered. He smiled because she laughed. He couldn't help but smile when his wife was around.
Then his wife was taken over by cancer. Sorrow filled up the old man, until there was nothing else left inside him. He was an old worn out jacket that was forgotten deep under all the other clothes with no one to wear him. No one cooked him dinner anymore. He didn't have anyone to cook breakfast for. He stopped going to their favourite restaurant. He didn't smile. Or couldn't. And at church he sits alone.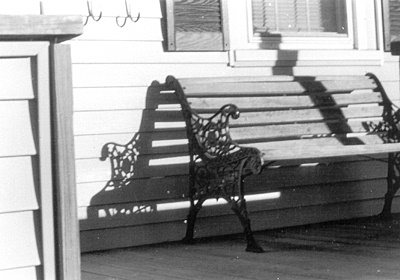 © Lauren O'D., Weymouth, MA