"Choking" Fishes
June 14, 2010
Have you ever walked on a beach and, "Ouch!" you get a cut on your leg. Has that ever happened to you? Have you ever wondered why?

Polluting of course! When everybody is having picnics they throw all of there trash in the ocean. Then the ocean washes the trash's toxic wastes into the ocean. That's how oceans are getting polluted.

When the corals and seaweeds absorb the polluted water it dies. So when the oxygen giving plants die, the fish can't breathe which makes the fishes "choking" fishes and there's more!

First, if someone threw a plastic pop bottle in the ocean a big fish can swallow it and choke. Second, plastic pop holders can get caught on seabird's necks and "choke". Third, the most deadly, ACID RAIN!!!!

Acid Rain is smokestacks release a large amount of toxic smoke into the clouds. Then, the clouds contain a large an amount of toxic gases. Then, when it rains, the roots of plants absorb the poisonous water and die. It kills all animal life, plant life, and ocean life.

I think people who litter or pollute should be banned from the ocean if they don't respect it.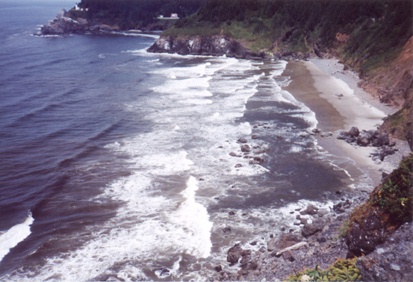 © Kristy H., Willow City, ND