My Car
MAG
Living in a summer town, my favorite thing to do is cruise around the beach with my car windows down and my music blaring. When I drive by tourists and see their heads turn to find the source of that ruckus, I can't help but smile! I am well aware that I do not have the fastest or newest car, and that I do not even have a system, but I still drive around like I'm in a Ferrari! I love my car because it is mine and I can do with it as I please.

My Cougar is 13 years old and requires a lot of maintenance, which is why I am glad my dad used to be a mechanic. If it needs something, he knows exactly what to do or who to call! We have put so much work into my car - changed the brake pads and rotors, changed the oil multiple times, flushed the coolant, and even replaced the headlight switch. This summer my dad and I replaced the stock speakers and radio with four Pioneer 6x9s and a Pioneer AM/FM radio and CD player, which allowed us to bond one Saturday.

We plan to do even more to my car, especially since a van struck the driver's side and shattered my corner light. Oddly, I had just been in an accident and broken the passenger-side corner light. So my dad and I plan to fix the headlights and realign the bumper sometime soon. The car also needs a sweep-through with touch-up paint. Due to faulty headlight switches, shorts often occur, requiring numerous replacements, and recently my dad bought all the tools so we will fix that soon, too.

A nice thing about my Mercury Cougar is that Ford made so many of these cars that parts are easily accessible. I have friends with a '97, a '94 and a '93, and all the parts are interchangeable. Also, Ford made two other versions of the Cougar - the Thunderbird and the Lincoln Mark VII, whose parts are interchangeable, too. Three other friends have '91, '92 and '94 versions of those!

Recently I blew the head-gaskets in my engine and I feared it was the end, but my friend decided to join the Army and did not want his '94 Bostonian Edition anymore so he gave it to me. The security of knowing that if I need a part I can take it from Rob's deceased Cougar is soothing.

Aside from the mechanics, my car is the most comfortable one I have ever been in. Because it sits low to the ground, every time I'm in it I feel like I am lying down. Compared to my mom's Contour, my brother's Camry or my dad's Pontiac, driving my Cougar is like flying through the air. It rides very smooth and handles well.

Though it is old and has close to no options, I love it! It has power windows, but not power locks; cruise control but no power seats; an alarm but no power antenna - definitely a weird collection of options. I love the car, though, because it is mine and I don't think I could ever part with it.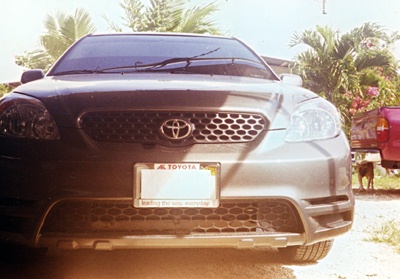 © Warlito B., Tamuning, Guam