Restoring Cars
MAG
As the paint fumes settle, a car emerges from the mist, its black paint glimmering in the late afternoon sun. How does black glimmer, you ask? Well, you have to see it to believe it. The two men who worked on painting the car stand back and admire their work. As the paint dries, the car gets more vibrant by the moment.

Bright and early, they will be at it aagain, but tomorrow will bring a twist. A storm brews, waiting for the right moment to pounce. For the men, it's about the love of the car, nothing else. They push the car outside for one last coat of paint. The storm approaches fast as the men work frantically to finish before the rain damages the paint.

They run out of time and must push the car back inside out of the rain. Wind sweeps across the ground, picking up leaves. Then the rain begins and it pours, coming down like a waterfall. It sloshes around in the potholes of the dirt road. It grows louder, hitting the roof like tiny hammers. They hear a crack of thunder in the distance; now it crashes as though pans are smashing together. The lightning dances in the sky as if scared to touch the ground, while the thunder is tremendous and unafraid.

The rain slows to a trickle and the wind subsides. As suddenly as it began, it is over. The sun breaks through the clouds and shines on the men once more. They have the feeling that the sun has been gone for hours, but only minutes have passed as they roll the car outside to inspect it. The paint has bubbled and their hard work is ruined.

They look at each other, then at the car, shrug their shoulders and find their sanders. The men are me and my grandfather, the car is a 1914 Model T Ford, and the occasion is a car show in Billings.

We remodel an old car every two years to enter in a show. From the inside out, we redo the motor and interior, the body work and the paint. It's not for the trophies or the fame we get for being the best car builders in Montana, though that is nice. We do it for ourselves, and the car. It's satisfying to know that we have done something special. It gives us the challenge of getting the car repainted and finished for the show by the end of the summer. And, it brings us closer together for the four months in the summer that I get to go to Billings to visit and start on another work of art.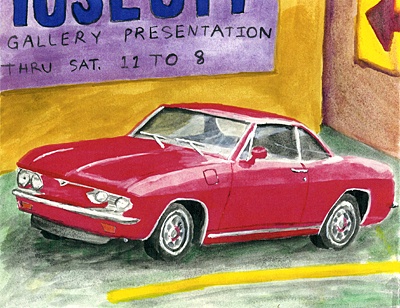 © Bethany Q., Owasso, OK