Keys to Independence
MAG
Gaining your independence can be one of the most difficult things. Some teens start by going places alone or by getting their own phone. Others try to find freedom from parents the wrong way. They may go out without asking. My method of increasing my independence was probably one of the most common: driving a car.

When I turned 16, getting my license was one of the most exciting days of my life. It meant no more worrying about rides and thus more independence. I could finally do more things on my own. I was ready to drive, and there was only one thing stopping me: I needed a car.

I knew what kind of cars I liked but just couldn't find the right one. Like any teenager, I had a limited amount to spend. Then one day my mom came home from work and said her coworker had two Mustangs that belonged to her daughters, explaining she would probably sell us one if we were interested.

A week or two passed and still no car. Then, my mom came home with photos from her coworker. "She still isn't sure if she is selling the car," my mom explained. It was perfect, though - a red Mustang with a white top. I wanted it, but still I didn't think I would ever get it.

Christmas eve finally arrived and still no car. "They decided to keep both of the Mustangs," my mom said. I was filled with disappointment, but there was a Christmas tree with a lot of gifts under it, so I wasn't too sad. I was ready for Christmas.

Christmas day! Now I finally get to open my presents, I thought. So I got up and ate breakfast with my family. I received many presents, great ones. I loved them all. Usually my brother and I finish opening at the same time, but not this year. His stack looked like a mountain. As I sat there I thought, I'm glad for what I got, but how many did they buy him?

The living room got so full of wrapping paper that my dad asked me to get a trash bag from the garage. I went outside and there it was: the most beautiful car ever! I definitely felt so stupid but thrilled. I finally got my car. The Mustang looked brand-new. My dream had come true. I finally got to drive and found the little independence that I was dying for. It's just enough to make me feel like I'm growing up.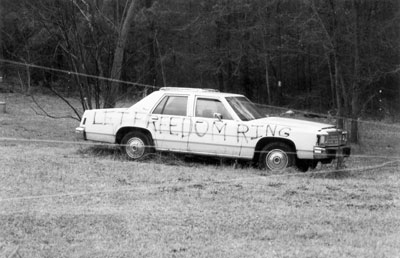 © Shanon G., Elgin, SC