SHIPWRECKED
April 21, 2010
AS I SIT HERE ON THIS LONESOME ISLAND. I'M FORCED TO LOOK BACK AND REMEMBER THE SHIP I ONCE SAILED AND SET TO SEA. THIS SHIP WAS A HUGE PIECE OF MY LIFE. I SPENT ALL DAY AND NIGHT TRYING TO STEER IT ON THE CORRECT COARSE, BUT THE WIND AND WAVES KEPT PUSHING ME BACK. MY SHIP MEANT THE WORLD TO ME, AND HIS NAME WAS LOVE.

LOVE WAS AN ANGEL SET FROM ABOVE, AND THE REASON I WAS SO OBSESSED WITH IT, IS BECAUSE IT'S THE CLOSEST THING TO MAGIC THAT GOD HAS GIVEN US. LOVE BROUGHT ME HAPPINESS, IT GAVE ME REASON TO WAKE UP AND GO TO SLEEP EARLY.

LOVE GAVE ME LIFE. COURAGE, AND CONFIDENCE. I EMBRACED IT IN WAY MOST PEOPLE CAN NOT LEARN TO DO. NOT IN A COCKY WAY BUT MODEST. I KEPT IT TO MY SELF AND NEVER SHARED.

BUT AS I SAILED THIS SHIP I NEVER ONCE SAW THE SUNSHINE. ONLY CLOUDS AND RAIN ,WHICH POINTED IT IN THE WRONG DIRECTION. ONLY TO REALIZE THAT THE SUNSHINE WASN'T AS BEAUTIFUL AS I THOUGHT. BECAUSE ALL THE SECRETS CAME LURKING OUT THE SHADOWS. ONLY TO BE FOLLOWED BY A THUNDER STORM THAT YOU COULDN'T IMAGE.

THE LAST MEMORY I HAVE OF THAT SHIP IS THE WAVE OF LIES WASHING IT AWAY, AND CARRYING ME TO THIS LONESOME ISLAND. STUCK HERE TO WAIT TILL THE NEXT SHIP COME AND SAIL ME AWAY.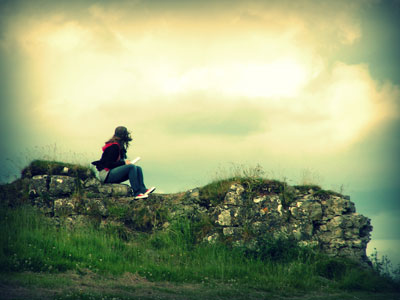 © Caroline C., Coronado, CA