Senator Brown is sworn in by Joe Biden
March 26, 2010
Massachusetts- Recently elected Massachusetts republican Scott Brown was sworn in as a U.S. senator a month ago, making it harder for President Barack Obama and Democrats to pass a health care reform bill. After being sworn in, Scott Brown made a speech attacking President Obama's recent stimulus package.
After an upset victory in a special election for the late Edward Kennedy's U.S. senate seat, the Democratic Senate majority shifted from 60 Democrats to 40 Republicans, to 59 Democrats and 41 Republicans. Brown's election has ridded the Democratic supermajority and the Democratic power to overrule a republican filibuster. The change in the Democratic majority appears small, but will have drastic impacts on President Obama's push for healthcare reform, Democratic bills and as well as climate reform. Senator Brown's election victory in the heavily democratic state of Massachusetts was heavily due to his running against Obama's health care reform. Brown's election has Democrats reassessing their legislative plans and campaign strategies.
Scott Brown, a former Massachusetts state senator was recently recognized by The National Federation of Independent Business (NFIB) as a "Guardian of Small Business" for his work in creating and maintaining jobs in Massachusetts. Senator Brown has also recently received an "A" rating from the Associated Industries of Massachusetts, for his efforts in promoting job growth and retaining companies within the commonwealth.

Brown after being sworn in by Vice president Joe Biden made a speech in which
he attacked President Barack Obama's recent stimulus package saying "it didn't
create one new job". Brown also spoke about the need of tax cuts in order to
stimulate the United States out of its recession saying that "When you offer tax reductions and tax cuts, there will be more people, more money in their pocket and naturally create more jobs". Brown who is planning to reach across the isle to work with Democratic senators, said "I am glad to be able to finally fully participate in the affairs that effect our nation" during his swearing in speech.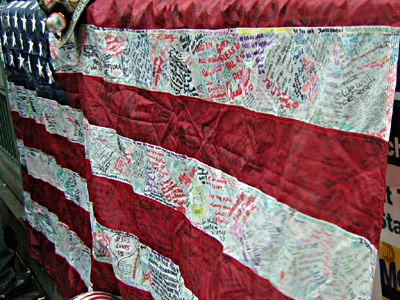 © Brittan S., Chino, CA