Through the Eyes
March 10, 2010
Look at an "ordinary child", now look at a child who has been abused and or neglected. Through the eyes of one child he/she was hurt mentally and physically. And the other child totally perfect life full of forgiveness, love, and acceptance.

Child abuse is a controversial problem and is seen in the media, at the local grocery store and or next door. Many may have seen a child being abused at least once. For example, on the way to the produce section of the grocery store just strolling right through and a child's hair is snapped back. Having a feeling that maybe you should not say anything because it's not your business to participate in. But look into the eyes of the child, finding the freight and the look crying out for help. To expand the idea child abuse is at times more public than it needs to be, and people who usually see the abuse may have seen what may be just a touch at home. But what may have been witnessed may have just been an emergency plan to control the child, not a very thoughtful way to control the child but in the eyes of a parent the only way. So don't mistake this strike and think.

Abuse is almost like a habit, it builds up over time and soon it becomes the only answer. To describe further child abuse is mental, emotional, sexual, ECT. It is when a child is not talked to or is left alone most of the time at a young age to strive for himself/herself, which is known as neglect. Or abuse could have been striking the child, yelling, and making inappropriate remarks at own child like; stupid, inappropriate language, and may end up killing to cover up what they may have left behind.

Usually after a child has been abused they become quiet. They might be thinking: "If I never talk about this I won't be hurt again they promised me." SO based off this half of the population of abused children go quietly and never report it. Understand that children are very trusting and gullible, and that they are intimidated about the bigger person that they'll never talk about it again. Usually there are marks on the child who have been physically abused or the invisible mark. To further this description it's the mark that can't be seen by glancing at the child. It is the one that hurts more than the bruises and the scars. The loneliness in the eyes, the attitude changes, the sudden personality change that holds questions, and the sudden vulnerability.

Why does this happen, why do they hurt their own, why do they hurt the ones they love? Truthfully there is no answer. To Whom It May Concern it's all seen through different eyes and different perspective. They may be hitting their child just because it may not be their child to begin with and they're still disapproving of it. It may because that person may just be mental and unable to control their mind and body actions. Or it may just be because parent/guardians find this as the proper punishment to apply to a problem.

Different people, different solutions some may want to look into help like a social worker or may not want to do anything at all. But looking into a social worker may be as risky as much as doing nothing at all. But a social worker could be as guiding as a stepping stone towards something more positive and more of a chance of improving. A social worker is a person who works to help solve issues, like issues within a family. He or she comes in and works with the family to look into the problem and help the family on its way to fixing it. But the difficulty of hiring a social worker is that the worker stops and checks on the family ever so often. Sometimes every six months or every other month or sometimes even next year. The social workers have less time to check up on the family and more of the chance to continue within the household. And while there aren't enough social workers and not enough funding there may still be abuse and in the end by the time they check on the progress again it may be too late.

So to those teens and or children who have been abused it's okay it doesn't make you any less of a person and if you need someone to talk to there's always someone who may not get where your coming from but is willing to listen. So don't feel like you're alone because there's people willing to listen who love and care about you. And make a stand for yourself and tell someone you trust before it's too late.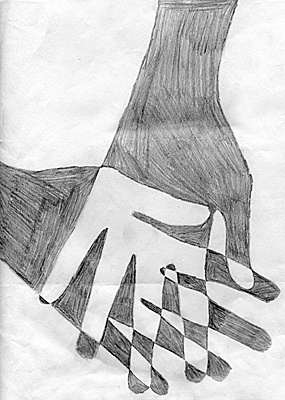 © Warlito B., Tamuning, GU