a seperate peace
February 9, 2010
Finally the return of my dearest friend. Now is my chance to make things right and fix the past. I will make everything up as if it never happened. I cannot help, but feel a certain dread on my hart after today though. I ruined his life and dreams. Although I did not know of these great dreams he had. For he kept them inside as a sort of secret. Finny is much too noble to be bragging about such a thing as training for the Olympics. He is simply too modest.

How I wish I could relive that horrific moment. I would take it back if I could. That day the peaceful Devon River witnessed its first act against everything the river and Finny himself stand for. For just a moment it became as dirty and clear as the Naguamsett.

The day was beautiful, as we had many times before, Finny and I ran to the big tree, on the bank of the Devon, to begin, yet another meeting of the Super Suicide Society of the Summer Session. We started it off like any other meeting. I climbed the tree first this time, Finny close behind. I stood as far out on the limb as I could. Then Finny joined me. For a split second in time my knees buckled from under me and Finny clumsily lost his balance and hit the bank with a horrible thud. At this moment I realized how I truly felt about my best friend. It's not as simple as you like him or you do not. Truth is I really did like Phineas he was truly my best pal. There was just one problem I could not resolve. The problem is jealousy. I secretly hated him for being so great at everything. That moment at the Devon proved how jealous I truly was.

This is the moment that comes to mind. How I wish I could relive it and not cause him so much pain. When all i ever was to him was not a competitor, nor a rival, but truly his best friend.

What did Finny ever do to deserve such a horrible thing? As I think back to the moment the doctor told me he would never play sports again I see what I really am and Phineas's true being. I am war and Finny is, as the Devon is, peace. That is why I have this moment forever embedded in the dark corners of my mind because it revealed my true presence.

If possible to visit this moment again I would have kept the Devon as a river whom only witnessed peace, as it should be. Or maybe I wouldn't ,if not this event that disabled my dear friend maybe it would have been another. This time it could turn out much worse. Worse than taking sports from him? Considering Finny was sport in its purest form I don't think it is possible to take anything greater from him. If I went back to that horrible time, I would have jumped right away. Before the thought ever had a chance to enter my mind.

I wish I would have held his gaze as he wobbled for balance a little longer. This way I could see what it was exactly that he thought of me, and how he felt at that moment. It would have revealed his true feelings towards me. When I live this event again I would reach out and make an effort to at least make it seem like I tried to help him. Instead standing motionless watching as he struggled on the limb that had never posed a threat in his eyes.

That day will never be forgotten in my mind. It was the day when Phineas made the only clumsy act of his life when falling from the branch high above the bank. The day when I buckled my knees and shook the branch sending my best friend to face a new life without the things he loved most of all. That day I ended dreams and lifelong training out of pure jealousy.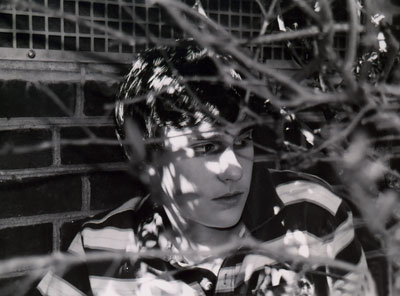 © Kyle W., Pompton Plains, NJ