Can't stop
February 13, 2010
The winter sun ignites the world outside my window. My brothers yell in the living room. MSN instant messenger warns me of new messages. I ignore these, the only thing in my head is the clacking of the keys on my keyboard, and the words on the screen.
I ignore the squiggly red lines, if I stop I'll die, I'll lose my idea. DONT MAKE ME STOP! I key and key, I have callouses on my fingers from this sort of thing. Why should I stop in the first place, the world doesn't matter as much, it's uninteresting.
When I write, I live in my fantasy world, where no one can touch me and I can be what I want. I might Simon, a courageous lover, wallowing in melancholy over his lost. I may be Victoria, the newborn vampire, tasting human blood for the first time.
So why should I stop, ever?
There's one thing alone that could stop my romance with the keyboard and the words on the screen. She's the most beautiful girl on Earth. "It seemed as if mother nature had carved all of the world's beauties so that the ground would be fit for her to walk on," I write, " When he saw her his heart ceased beating in pattern, and his breath lost measure. He ceased to be alive. Living was survival, this girl made life a pleasurable thing, an experience."
I stop writing. My hands clench and unclench over the keyboard. The finale of Beethoven ninth symphony plays through my earphones. The letters on the black keys stand out at me, mocking me. They tell me I'll never be able to do it. I punch them. Again and again, punching my love and hate and sorrow and anguish and happiness and anything else that comes into my mind. I put it all down, in definite, immortal ink.
"They held each other, and the world stopped for them. There was nothing anymore, no consequence for life. What was life anyway, without each other?" I conclude. I'm done. I wrote the first draft with my heart, now to write the second with my brain.
I can't stop writing. I can't stop loving. I can't stop crying. I can't stop this pleasurable experience. I can't I can't.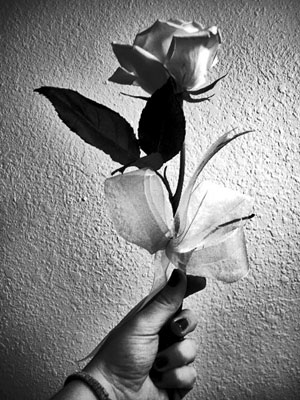 © Lauren R., Edmond, OK