I Have A Dream... Let Freedom Ring
January 15, 2010
"I have a dream that one day this nation will rise up and live out the true meaning of its creed: 'We hold these truths to be self evident: that all men are created equal." No one could contradict the impact that Martin Luther King's famous speech has had on not only the African American community, but the entire country as a whole. It takes a sheltered being to not be able to notice the tremendous influence the Rev. King has had on the outlook of Americans. Evidence of his legacy is all around us. Drinking fountains, bathrooms and restaurants are all co-racial. Even the once segregated school systems are now racially diverse.

When Martin Luther King Jr. was born on January 5, 1929, no one could have predicted that this child was predestined to lead a nation away from the evils of segregation. Graduating from high school at the age of fifteen, young King began his destiny by receiving his B.A. degree from Morehouse College. First signs of his impression on civil rights were evident in seminary, where he was elected president of a class largely populated by Caucasians. Beginning in 1954, Martin Luther King Jr. became the pastor of Dexter Avenue Baptist Church of Montgomery. As an already active member of the NAACP (National Association for the Advancement of Colored People), King began to make his presence known through a bus boycott that is described as the first Negro nonviolence movement of its kind. Lasting close to 400 days, this act succeeded when the Supreme Court passed a law giving racial equality to blacks on buses. Despite the constant threats on his life, family and the bombing of his own home, King persevered and became a symbol of strength to the black community. After delivering countless speeches in multiple cities, including the famous "I Have A Dream" speech, King wrote five books, an addition manifesto of the civil rights revolution, and became the youngest Nobel Peace Prize winner at the age of thirty-five. But instead of giving into greed, the revolutionist gave close to 55 thousand dollars of the award money to the movement he worked so hard to to build up.

On April 4, 1968, Martin Luther King Jr. was assassinated outside his Memphis Hotel room. Despite his death, King's legacy has and will live on. As he said in his speech outside of the Lincoln Memorial, "I have a dream that my four children will one day live in a nation where they will not be judged by the color of their skin, but by the content of their character." Today I think that Dr. King Jr. will be proud of this country. America is a country of hope, a country of chance, and a country of equality.

So why worship this man? Aristotle is the symbol of logic. Einstein is the symbol of intellect. Michael Jordan is the symbol of athleticism. But Martin Luther King Jr. is so much more. Dr. King is the epitome of America and its promise of life, liberty, and the pursuit of happiness to all men. To all equal men.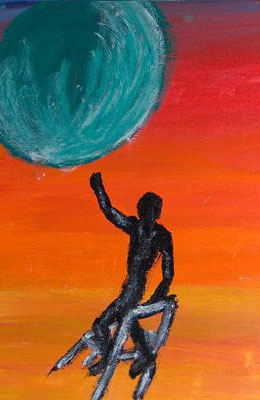 © Maegan F., Harrisburg, NC