For Fifteen minutes
October 24, 2009
Heat strangles me. A sun, with a fiery anger unmatched in any of the cosmos, osculates my bare flesh. I drown in a sea of robotic eyes, alone, unable to quench my thirst for human sympathy.. These quiet moments re-enact my birth in a horrible caricature – once more I am solely myself, again do I silently arrive in a place plentiful of cameras, light, and apprehensive observers. I was born chained to my mother, but she liberated my body and watched me with loving eyes. These eyes hate me, they grin in fearful placation at the chains their hands have placed bound to my wrists. They hold a fear, these ever watching eyes, a fear of the life within my soul. It shines too brightly, and they must shade their eyes with prejudice and alienation.


Nothing compelled me to save an unknown woman. I have not now nor never known her true name. This disease inside me, this siren's call for freedom forces me to action, to act against a foreign land. Escape was offered to me. I respectively refused. All I have inherited from my country would have been spoiled on a useless person had I ran and hid.


To martyr myself in a foreign land is suicide, the brethren of my homeland told me. I die for freedom, I said then, I die for preservation of our way of life. With the death of this one person, revolution will be given life. Perhaps what I could not do in life, I shall achieve dying. I could have saved myself. Remaining inactive while violence surrounded assured me safe passage into long life. I could not. My heart loved too much, too many. The storm of chaos inside me would burst forth and chase out all peace around, but I sought peace when chaos enveloped my person. Being a witness to a standard, barbarian action in a foreign country had gone ignored by many others, but the love for all of humanity I had, the want to believe that


Denunciations begin. I speak their language, but do not understand their words. They speak of God, of obedience, of the law. Legitimately, I have committed a crime against their culture, but their perspective is tainted by the totalitarian ways of their people. I am a monster who must be punished by the hand of God, a blasphemous example of my sex who believes to be equal to men. Now they ask me to state my position in the case. I dove into the sea of faces again, and was refreshed by what I saw in the eyes of the spectators. If I yell, my life will be forever a stereotype of a martyr. I must speak quietly, so that they listen. I ask them, 'Why is it that I am so ready to die for your freedom, but you are too unwilling to even speak out for it?'


I have never given myself over to religious zeal, but by God's hands do I believe I was created for this moment. Kindness, humility, and charity are my heart, diligence my hands, patience and temperance direct this morally distressed mind, chastity my soul, and justice my voice. Truly, I am the deliverance for these children. Everything that I am entices their souls, ensnares their emotions. They may be angry, they may be petrified, but I have made them feel when sentiments and sensations are verboten.


The world rushes back in bursts of wind and echoes. Air swirls around this body of mine, and the earth feels cool under foot. A glance upward. The sun still shines on my day of death. Everything moves slowly now, a movie-world moment. They raise glittering guns, they aim the polished barrels. I breathe in. Then smile, overjoyed in a way so happy it startles them. The wind tastes of freedom, I think, as the guns rise once more. Seeds of hope my sacrifice planted begin to sprout as the bullets take flight.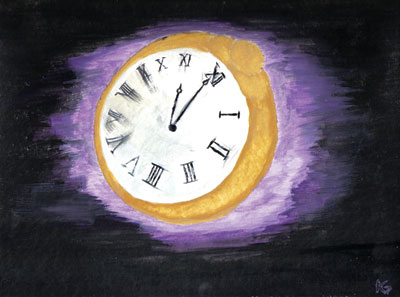 © Kyle G., Clarksville, TN