My Street
November 19, 2009
My street is the silence right after a rainstorm. The cool, calm, quiet. The drip, drip, drip of a friendly tree when everything is painted in blues and grays and greens. The rustle of the wind through the nearby woods and the cool sun peaking barely through the trees. It's the rainbow crowning the sky with half a halo that makes me smile.
My street is the first day of summer. The children filing off the bus like ants and then racing down the street because their joy is bursting out of them and propelling them forward. Their shouts that fill the air like balloons reaching for the sky. Their moms smiling, happy because their kids are happy.

My street is the pickup of the fall. The tree leaves turning to burnished yellows, oranges and reds, and the light shining through them and dancing colors onto every surface. It's the comforting wood smoke scent that seems to be constantly in the air. The yellow buses marching cheerfully down the street. The soup my mom seems to inevitably make. It's the little-kid tag games that are always going on a few houses down, and the crisp, cool, invigorating nip in the air.

My street is the frost in winter, Santa's village with all our chimneys puffing smoke like old grandfathers. Outside, it's the icy silver scent of snow that tingles the end of one's nose as one snuggle backwards into the soft warm folds of their winter parka so that one's eyes, ears, and nose are all that can be seen. In the morning it's when everything outside is pristine and the winter sun is glinting off the icy crust on top of the snow, at least until the dogs get at it. My street in winter is the perfect setting for steaming cups of hot chocolate while reading a much-worn favorite book. It's ideal for sleepy naps and movie marathons and baking lots of cookies. My street in winter is the perfect setting for my cave to hide out from humanity until the birds come back and the flowers bud once again.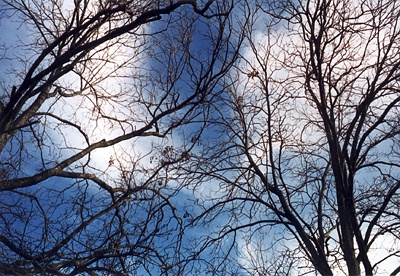 © Sarah L., Glendale, AZ