Stirred into the Rain
October 12, 2009
As a kid, rain was God watering his garden. Sometimes, angels were crying. Occasionally, James and my cousin were breaking water balloons on us or playing in a sprinkler. But childish beliefs fade when education pushes them out of existence. Rain was evaporated water that condensed in clouds and fell when it got too heavy.It was no longer God or angels. Until recently.
November 4th, 2009. The day didn't start off easily for me. I woke up cold, 21 minutes too late. So after speeding to school, barely making the homeroom bell seemed like good luck. That was until I realized that I didn't study for my AP Bio quiz. After that torture of filling in answers that were almost certainly incorrect, I went to math, religion, English, government, and Latin. It seemed like in every class that the teacher was either grumpy, replaced by a Nazi sub, or in the mood to grade a million papers the next night. Oh, and also, I was being ignored by my best friend for forgetting her birthday.
But to top it all off, at 2:53, 7 minutes before the bell would ring, it started to pour. I had to park 2 blocks away because I was late, so I was destined to get drenched. But when I walked out of the building, no umbrella in hand of course, the rain began to hit my head, shoulders, arms, and legs. Oddly enough, it seemed like the frustration was dissolved into the water. My worries dripped off my fingertips; my stress ran down my forearm. Rain is no longer weighted condensation. It is God's serenity stirred into liquid peace.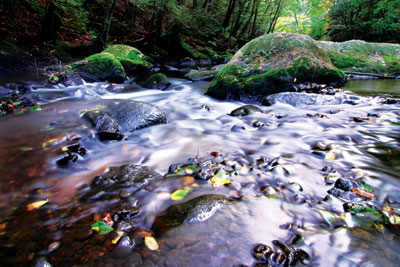 © Matt S., Glastonbury, CT