Pretty Average
October 7, 2009
Describing ones self can be a difficult thing to do. We all want to brag about how wonderful we are, but to truly describe yourself you have to tell the good along with the bad. At a quick glance you would probably think I'm an average girl, with an average life, and an average personality. By making that assessment you have to be positively blind.

If you had looked closer you would see the smile that is always threatening to break free and the fierce determination in my eyes. You would notice that I liked to be noticed, that I wasn't one of those fade-into-the-background-don't-look-at-me-sink-into-the-floor types. If you looked at my friends, my colleagues, and my peers you would see that I like just about everybody and those people I don't like, I don't like for a reason. You would see that I'm open to just about anything and that I don't make judgements about people before I get to know them. No matter how they dress, act or who they hang out with. You would know that I'm proud of being different and unique.

If you were to have a conversation with me you would discover that I'm definitely not a quite person, but I'm still somewhat shy of new people. After knowing me for a while, you would figure out that I'm quick to anger, but, luckily, also quick to cool down. You'll find that I'm slightly obsessive about perfection, especially when it comes to grades. You would know that whatever you do, I have your back and I won't let you down. You would know that I don't stand for drugs, smoking, or drinking. You would know that I don't reveal my feeling very often, that I hate to cry in front of people, and that I have horrible panic attacks. You would know that I'm proud of my faults as well as my perfections.

Until I've known you for a long time, years perhaps, you'll never know my past, my pain, and the tears that are longing to escape from behind that ever lingering smile. I'll probably never tell all the things I went through, and the things I still am going through. Yes I have a past, and yes I have regrets; but then again who doesn't? So yeah, I guess you could say I'm a pretty average girl.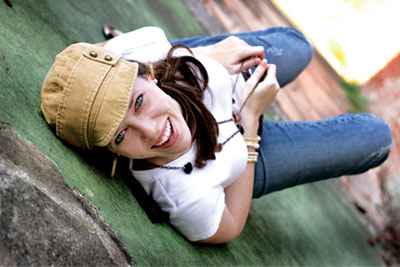 © Brianna C., W. Monroe, LA