3 things I would take if aliens are invading Earth
July 20, 2009
I can still recite one text from my six-grade Chinese text book named In honor of Norman Bethune written by Chairman Mao. There is a famous quotation which became one of the most influential slogans of CPC in that memorial article says: "Do nothing for oneself but do everything for others" which is the highest appraisal for Doctor Bethune who came to China as a member of the Communist Party of Canada. So, if I am about to leave the earth in a rocket, I shall follow Doctor Bethune's example and take nothing with me so that there will be more space for others to take something really important to them.
Wherever I go, I take my Nikon F6 with me. How I wish I could become a news photographer like Robert Capa who dedicated his own life to his career as a war correspondent on the battlefield of Vietnam War. I totally agree with his famous quotation "War doesn't determine who is right; war determines who is left." I always wish to be a journalist who go across the battlefields and let all people know how cruel and unjustified the war is through my photographs, and I deeply believe that only the photographs can record the real history.
I have a very huge bookcase which includes all my collection of books at home. "Books are the ladder of human progress" the Former Soviet Union writer Maxim Gorky once said. The fairytales of Oscar Wilde, Gianni Rodari, Astrid Lindgren tell me that we should be kind. Lord Byron asked "And where are they? And where art thou, my country?" on "The Isles of Greece". John Keats asked: "Was it a vision or a waking dream? Fled is that music: Do I wake or sleep?" There are also The Theory on War written by Carl von Clausewitz, Capital written by Karl Marx, The Histories written by Herodotus, Meditations written by Marcus Aurelius…
I like mountaineering which brings me satisfaction of being on the top. I miss my red Gore-Tex breathable parka, my pink plastic boots, my yellow air mattress, my orange tent and my blue Ozaqvk sleeping bag. There's an old saying in China: "Climb higher, see farther." When you climb a mountain, you may face turbulent currents, deep gorges, overhanging cliffs, crushed stones or even blizzard, but once you mount to the summit, you forget all the obstacles you have come across before and completely enjoy the fabulous scenery seen from the peak.
But if I take my Nikon F6, there may not be enough space for an old man to bring a memento which really means something to him. If I take my bookcase, there may not be enough space for a young lady to bring her violoncello. If I take my hiking pack, there may not be enough space for a little kid to bring a Teddy Bear. Maybe, ideal doesn't take spaces. If so, I'll bring nothing but my ideal of being a reporter with me.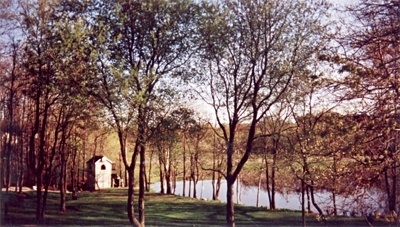 © Elizabeth M., Highland Village, TX