He shall remain
April 16, 2009
The day I lost my grandpa was one of my worst days ever. I don't even know how to explain how sad it was. That day was the day I lost my grandpa. His name is Bobby Michael Chuck. There is so much to tell about him and my story.

My mom and dad are separated; they haven't been with each other since I was 7 months old. Because of that, I go to my dad's house on the weekends. This specific weekend, Friday night, all of my grandpa's kids and grandkids went to my grandpa's and grandma's house to have dinner. We all had fun talking and playing. I think he enjoyed having family there, and a brake from farming. Everyone went home by 10:00 p.m.

The next morning I went to my other grandpa's bar/restaurant to help clean and get ready to open. We had just finished and I was down in the basement getting ice. My step mom, Nettie, started stomping on the floor and yelling for me to get up stairs and get in the truck. I went up there, asking what was going on. She just told me to get in the truck and she'd tell me once we were on the road. I didn't even know what to think. The way she was freaking out just scared me. So we jumped in the truck and once we got going she told me that my grandma couldn't get grandpa up. The ride to my grandma's house seemed like 3 hours. Once we got their, there was 2 police cars and 1 ambulance. She parked the truck and said to me, "Are you gonna come in?"

And I said, "No."

The whole time I waited I knew it was something bad. It felt like 2 hours before Nettie came to get me. She opened my door and said, "I really think you should come in by grandma, she needs you."
As I walked up to the door I just knew right away that something bad was wrong. I walked up the stairs and into the door; everyone looked up at me with tear-streaked faces and red eyes. I went straight to my grandma, went into her arms and started crying.
The rest of the day was terrible. The paramedics asked my grandma if they wanted to have autopsy done to my grandpa to see why he died. My grandma said no, she wanted him to be left in peace.
After my grandpa's death it was very different at family get-togethers. My dad and my uncle Randy were the ones who took care of the farming. My dad bought a pre-fab house (where you go pick out the house and then they bring it to the spot that you want it) and now he lives in the country right next to my grandma and the farm. Now my dad is always out farming and now that my brother is old enough he farms too.

After his death it was very hard for our family to get through it. He was never really there again at our family get together meals or parties. But everyone knew that deep down that not only was he in our memory, but also inside our hearts, and forever will be.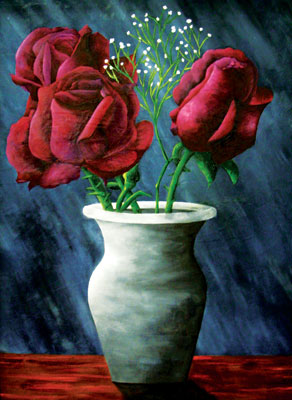 © Brandon S., LaFollette, TN