My Brown Eyed Girl
MAG
December 13, 2008
My mother was born with a disease that cannot be cured, and in some cases is fatal. It makes her blind, and her blindness affects all her family and friends. Everyone says that I have her brown eyes.

I should clarify that the aforementioned disease is not something that can be contracted or even definitively diagnosed: my mother is bipolar.

My first memory of my mother's "blindness" is when I was five years old. She shields her eyes behind tortoiseshell glasses shaped like lemons. My father, mother, brother, and I were resting together in my parents' king-sized bed when my mother removed her glasses, lay back, and closed her eyes. My brother and I, disliking this lack of attention, began prodding her and calling her name. She remained unresponsive. After a minute, she flickered her eyelids and, a struggle within her chest, wheezed, "I am dying."

My brother and I became instantly hysterical – a natural reaction from children – and we started screaming her name until we cried. All the while, my father reclined and looked away from this abominable scene. He suffers from a sort of blindness, too, though his contact lenses can conceal this from the public.

Minutes passed, but it felt like hours, days, weeks. My mother reached for her glasses and put the clear lenses over her eyes. She sat up, propped against pillows, and asked what we wanted for dinner. She was smiling with the brown eyes we share.

I got my first pair of glasses when I was 12. I treated them with care – they were incredibly valuable to me. I could finally see clearly; all of the blurriness, confusion, and self-blame was put into perspective. My eyes still resembled hers, but I knew that I now had an advantage. With these new glasses, I saw for the first time what was going on in my world.

One morning in my freshman year, I misplaced my treasured spectacles. I looked into the mirror and saw my mother's eyes in mine. I knew what was coming. She barged in, screaming that I had intentionally hidden my glasses in order to make her life miserable. Throughout the course of this routine verbal assault, I kept my eyes glued to hers, our pupils in perfect alignment. I refused to blink. A blink would signify defeat, intimidation. I wanted to appear so callous to her absurdities that she would realize that she is not her disease; she is merely consumed by it. Then I felt a hot, wet trail creeping down my face. I cried from my failed attempt to stare her down. I did not make it to school that day, and an hour later my mother did not remember why.

The summer before sophomore year, I got contact lenses. Though they were a bit more work than simply sliding on a pair of glasses, I could see even more clearly; it was worth the effort. In a manic phase, my mother approached me after an evening out with her friends and proposed that we go skinny dipping. By now, I was fully aware of her condition and realized that it was out of both of our hands. I politely declined, but she kept on, jumping up and down and shrieking with excitement. I looked her in the eyes and told her that it was impossible; it is unhealthy to expose contact lenses to chlorine. She turned toward the door and stripped while running to the pool. She dove in and broke her glasses. I could see all of this from a distance; I blinked without guilt and laughed. I had won.

My mother and I sat high up on bar stools on vacation in Barbados. The piano bar featured live music played by a middle-aged, overweight Welsh man. With every drink my mother consumed, her eyes appeared harder, fiercer. I could tell that a much-dreaded episode was approaching, and there was nothing anyone could do to prevent it – that is, except the Welsh man. On the brink of mania, she heard a soft voice that melted her expression. Van Morrison's "Brown Eyed Girl" started to play, and she grabbed me by the hand and serenaded me. I dared not make eye contact. "You, my brown eyed girl." The lyrics and her voice resonated, and I saw her pointing at me playfully. "I saw you just the other day, my, how you have grown." I reluctantly glanced at her and what I saw was not what I had anticipated. Her eyes were surprisingly gentle. She was vulnerable. She was sad. It was certainly a sight to see.

As a freshman in college, I do not often see my mother. The idea of being away from that penetrating stare is a thrill. It is an opportunity to grow up without her watching my every move, and without my lurking fear. Months in, she had a typical episode and poured her hot-tempered tantrum onto me via telephone. I was dumbfounded that she could manage to affect me so negatively from 300 miles away. It was then that I realized something: perhaps I was being selfish in taking her tantrums personally. I already knew that she was detached from her own mind at times, but there was no use allowing hatred to manifest. It was time that I stopped seeing her as a parent or role model, and started to look at the situation from a different angle. She needed help, and I could provide that for her. I could help her to work against the adversity and in doing so, prevent myself from becoming blind. I have her eyes – but I am not her.

Though the sight of her once made me sick, I am now able to say that I love her. I have reached the personal epiphany that any person with a bipolar parent must reach and find inner peace: it is unfair to hate someone for something out of their control. I hate the disease. I hate that people are forced against their wills to suffer from a disorder that clouds their thought process and conceals who they are. My mother, along with other bipolar people, sees herself differently from how others perceive her. While some might view her as irrational and insane, I choose to look at the disorder as a mere obstruction of expression. I once fell victim to our brown eyes. Now, I love them – all four of them.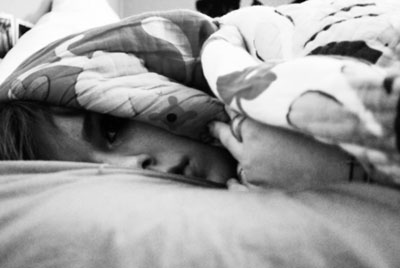 © Erin H., Carrollton, TX