She Was Only Thirteen
June 18, 2009
Ciara had an air about her, something that gained her many friends . . . and enemies. She was so young, only in seventh grade, although she carried herself like a 30 year old. She looked as if nothing could break her, and I was convinced nothing ever did. That is, until the night we received a phone call.
My parents have been part of the foster-care system for about ten years. When a child needs a home, she's who they call. She's who they called when Ciara was caught. As it turns out, Ciara was completely and irrevocably addicted to meth. How did she get ahold of it? Her own mother.
Police stormed into her house that afternoon, putting handcuffs on a struggling mother. Ciara and her young sister clung to their mother; she was the only family they'd ever known. Screaming, clawing, fighting desperately, the two young girls held on. Eventually, they were both cuffed as their mother was taken away, they were never to see her again.
Ciara came to us that night after being released from the hospital. We brought her inside, handed her a small blanket. The meth was visible in her; she was going through withdrawls. Her hands shook as she curled up on the dining room floor with the small blanket, asking meekly for the telephone. She held it carefully, as if it'd break in her hands.
She whispered into the mouthpeice for hours, tears and mascara streaming down her pale cheeks. She shook and rocked back and forth for hours on end, whispering and fidgeting with the corners of her blanket. My parents watched her from the next room, their faces a mixture of pity and scorn. The little ones watched her in fear, unsure of the situtation. Mom shuffled them off to bed, and Ciara slowly sidled into the living room, choosing a large, comfortable chair to curl up in. My parents offered her pajamas, food and water, and she quietly declined, unable to speak much louder than a whisper, and her damp eyes finally fluttered closed.
She only stayed with us one night, the next day she was taken by a case-worker to a rehab facility. I don't know what became of her after that, or where she went. I'll remember her for a long time. She was thirteen, pretty, blond, and a drug addict.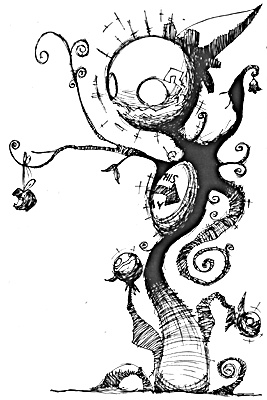 © Tas H., Galesburg, IL