Broken
June 8, 2009
Why? Why'd you do that? Are you stupid or something? You said you never wanted to see me cry, never wanted to see me hurt, well it's too damn late now.
You were perfect, everything I ever dreamed of. Your eyes saw right through my carefully cultivated facade and I never doubted you for an instant. And I think at first, when I was scared and guarded, you were ready, you wanted it all, but I wasn't.
But I am now and you're gone. You led me on for the longest time, and just when I came around you were gone. Now don;t get me wrong, when I first met you I never expected to fall so hard. I didn't expect to fall period, unless you pushed me or something. But now I feel in a way you did push me.
You pushed me over the edge, and waved goodbye as I tumbled down the rocky cliff, your other arm wrapped around her waist. And I cried but you didn't care. I know now you never cared. It's okay, I understand that you don't want a reputation as the jerk who broke the heart of the sick girl, so it'll be our little secret.
I'll keep some extra tissues and a mirror in my bag, so when I cry I can fix it. I'll reapply my eyeliner, my cheap mascara, and blow my nose and go on like nothing is wrong.
God, how hopeless am I. YOU broke MY heart, and I still try to protect you. How stupid is that? What am I thinking? Why don't I tell everyone how much I hurt, how you shattered me into a thousand little crumbles? Why don't I take everything from you and make you feel just a fraction of the hurt I do?
But I can't. Call me stupid but I can't do that to you. I hope that maybe you'll realize she was never right for you, and that I'm the girl you're looking for. And just so you know I'll be waiting with open arms, a fake smile plastered on my face, and my taped together heart. Just waiting to be broken again.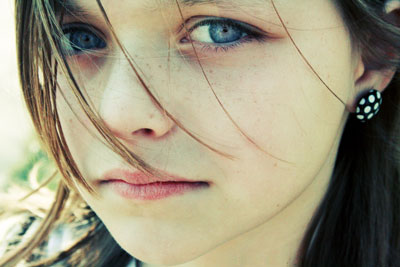 © Felicia R., Arlington Heights, IL