True Friends Rise to the Occasion
June 7, 2009
Although life brings in many adventures, there's still some times where we wish we could wake up and realize it was only a nightmare. Unfortunately I'm still waiting to wake up and see my life the way it used to be.
When I was younger, I thought that I had the most beautiful life a ten year old would always dream of. I always expected it to be the same way up until the day I die. I would go to theme parks and travel around the country with my family without a worry in the world. I didn't care much of life or anyone in it other than my family.
I was very fortunate to have a great childhood and family. People would come and go into my life, but I wouldn't mind. I would just keep moving forward; until I lost a good chunk of my heart. Who would have thought that from relaxing in a room, would come months of crying. That one simple phone call changed my life from beautiful birds chirping to a dark dungeon with no escape.
My cousin called my brothers and I and told us to rush to the hospital because my father was dying. We didn't know what was going on and didn't hesitate. I remember sitting in the waiting room and the doctors telling my mother that he was gone. My heart fell to the ground and I saw my father's eyes for the last time. At that moment, I didn't know what to do.
For the next couple days, the rumor had spread and there were phone calls left and right. I would remember my dad's face and I would break down and the only people that could help me were my friends.
On the day of the viewing, I was scared to see my father because I had never gained the strength to see a dead body. My whole body was trembling and I couldn't even walk. I felt as if I wouldn't make it through the night. My brother had to help me out and basically carry me to a bench. It was beyond a nightmare.
I was hurting on the inside but when my friends got there, they made it a lot easier for me to deal with the pain. They were just at my side making sure I was fine. I cried on their shoulders and they even found ways to make me smile.
At that moment, I realized how many true friends I actually had in my life. They were all there for me when I truly needed them. They helped me because they knew that my family was hurting as well as I was and that they were incapable of helping me. I couldn't believe the amount of people that went to support us through the pain. They made me realize that every person that comes into our lives, come in for a reason and we should cherish it.
Nightmares are unbearable, but when there are people who you can talk to, the pain goes away. That saying about friends being there is actually true because no matter what the situation is, those people who care are at your side.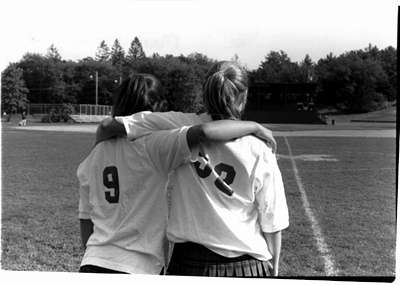 © Kelley C., Marblehead, MA