Broken Arm
May 21, 2009
I walked in and saw my sister on the counter, crying as hard as she could. My mom looked at me and said, "Danielle, go and get Penny, now," with a look of horror on her face. I was running as fast as I could through the yards, yelling as I ran to my neighbors, pounding on the font door waiting for Penny to come to the door.

Penny opened the door, I told her that my mom wanted her to come to my house. While we walked rather fast to my house she asked, "Why does your mom need me?" I told her I wasn't sure, all I know was that my sister was crying as hard as she could while holding her arm. So when we went inside all of the kids on the street that I was playing with were all in the house with us. Penny looked at my sister's arm. Penny is a nurse at the Toledo Hospital, so she knew all that doctor stuff. Penny looked at my mom with a look of confusion, "Kris, I really don't know. Give her some motrin and put ice on her arm and you will know in the morning."

My parents were suppose to go out with some friends that night, so my uncle was going to watch us. So when my parents arrived home from there night out, my mom looked at my sister's arm , "That is broken, I'll go and change to go to the hospital."

My dad looked at my mom, "Kris, you really want to go to the hospital on a Saturday night at 11:30 at night?"

My mom looked at my sister then hesitated, "No, we can wait till morning I think."

In the morning everyone got up and we went to the hospital at 8:30 in the morning. It didn't take very long like it would normally. The nurse took us to a room and gave my sister some medicine to make her tired. But it didn't work. The doctor couldn't wait any longer to fix her arm, if he would wait longer the arm would try and fix itself, he didn't want that to happen. My mom looked at my dad with the you-better-leave look. He took me out in the hallway. While we walked out of the room, we saw a nurse go into the room with an IV. Then a few seconds later I heard my sister screaming, "Someone help me, help me please!" I looked at my dad felt like I was about to cry, about to cry a little Nile river right there in the ER. Hearing my sister cry was like putting pins in my ears. Earlier my mom asked me if I wanted someone to come and get me but I said no, I really wish that I would have said yes now. My mom called my Aunt Kara to come and pick me up . I was stuck in the waiting room, sitting there waiting till I saw her walk through the door. She came to the hospital and we went to her house for a few hours.

I was playing outside and my aunt came out and said that my sister was finally home, and that she was going to take me home. I was kind of scared to go and see her. I didn't know what they did or what she looked like. My aunt said that it would be nice if we stopped at the store and bought her something. My cousin Josh found her a stuffed animal that he was going to give away, the rest of us just bought her candy and chocolate.

We arrived at my house, I walked in and saw my sister just laying on the couch with this big wrap around her left arm. I walked over to her and asked, "Are you okay?" She looked at me with a look of pain in her eyes. The sleep medicine was starting to work. We showed her all of the things that we bought her and put them on the table by the couch. It looked like we weren't the only people that wanted to make her feel better. Get well card where laying everywhere, with little candies in them.

Then a week and a half later my sister went and the doctor put a hard cast. After her arm was better she had to keep the cast on, but she had to do arm exercises to make her arm stronger. Finally, her arm was healed and she could take the cast off for good. Everyone was so happy , but she was the happiest because she didn't have to wear it anymore.

I am glad now that my mom yelled at me to go and get Penny. If she didn't we could have been waiting in the ER for hours and not knowing what happened to my sister's arm.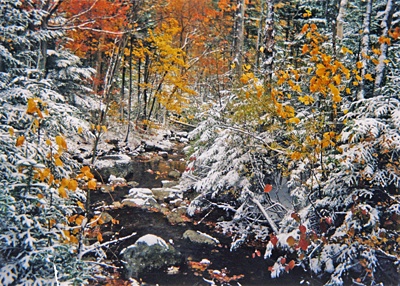 © Eric E., Lexington, MA