Life is a Dance
May 20, 2009
I can fly. I can also float, glide, and perform other feats the human body shouldn't be able to do. No, I'm not a superhero, and I'm not crazy. I'm a dancer.

My dancing career started when I was four. It was called "creative movement" for my age group then. Once a week, we children would suit up in leotards, tights, and leather slippers to learn how to gallop to the beat of music, stand with good posture, and "leap over an alligator." Twelve years later, I suit up six times a week with the other ballerinas who stuck with it to work on technique, learn choreography, and get a natural high from a good workout and doing what I love most.

At the start of every class, while I stretch on the floor or warm up my hips with plies, I make a mental note of one thing to focus especially hard on through every exercise. This also reminds me to leave everything else at the door of the studio: my homework, scripts to memorize for drama and debate team, the rain pouring characteristically down in my Southeast Alaskan town. Often I will focus on a correction my instructor, Melinda, gave me in an earlier class: my turnout, arm shape, core strength. She has been my teacher since my earliest years, and has fed my passion greatly. From recitals to Fireweed Dance Theatre performances, she has been there for me.

In "Fireweed" rehearsals, I feel my best. Dancing original choreography surrounded by others who share my passion is a powerful experience. We're all there because we want to be. This is time that we schedule outside of regular classes to dance. Our collective energy swirls in the room; the air feels alive. We pump each other up.

An hour of dancing can make the worst day disappear. By the time my body is warm, my mind has shifted to the right hemisphere and all I feel is music and sweat pressing on my muscles, and my fall down the stairs after sixth period is ancient history. Dance is my drug of choice. It makes me happy, keeps me fit, and is all-natural. (Except for standing en pointe and develope my leg over my head, grande jete into the splits and making it all look easy.) Standing at the barre, I feel like a superhero. I am in control of my performance quality. I can do anything. When I, at last, get to the moment I've been preparing for - performance - and I'm doing a tour jete across the stage, I can fly.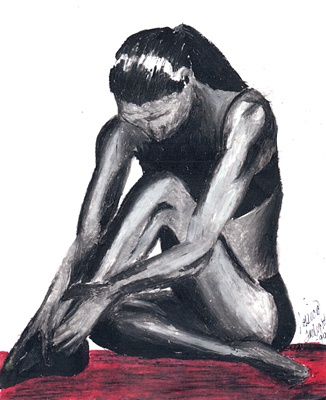 © Jessie Y., Ahwahnee, CA