The Rainbow Doesn't Only Live In The Sky
April 30, 2009
Commotion, commotion, commotion. That is the summary of my school year. It is composed of a lot of studying, stressing and extracurricular activities. I wake up, eat breakfast, and arrive at school, take notes, listen to lectures and am notified about upcoming tests and papers, go to a National Honors Society meeting, then quickly change and dash to the bus for tennis practice. When I arrive home, I complete typical evening rituals such as eating dinner, taking a shower, doing homework and going to sleep and repeat the process of being flung from place to place. When creative writing class approaches, I can finally press the pause button on my fast-forward life.
On a particular day in creative writing, our teacher noticed how brightly the sun was shining and decided we should take a walk to notice our surroundings. She asked us if we could walk in complete silence. At first, our class found that request to be quite difficult. We indulged ourselves in our conversations, completely ignoring the beauty around us. After a few pleas for silence, we finally stopped and observed our environment.
I was actually quite surprised. I never realized there was so much to see around my school. I looked up and saw the azure sky and the fiery sun. I looked below me and saw a rainbow of flowers. Around me, I heard the whistling of the wind and the chorus of chirping birds. I ventured into a child's mind, filled with sunshine and daisies. I explored woods that smelled of maple syrup. For the first time, I saw the sustainability class garden, filled with numerous vegetables and a lone sunflower. Unfortunately, I also saw just how much litter our earth holds. I heard the loudness of the passing cars. The amount of waste cars excrete frightens me. I had never noticed both the positive and negative aspects of our environment. Who knew there was so much to discover in a town so small?

Our day to day lives are filled with volume and activities. We continually silence nature's beautiful voice. When we are silent, she can finally speak. We must take the time to listen. It's about time we put aside our technological luxuries and conversations and looked at something more meaningful. So what will you do? Silence yourself and hear what's never heard, or silence something that should be heard?

I have come to realize that the rainbow doesn't only live in the sky. It's all around me: the pink and red flowers, the blue sky and the green grass. I should let it emerge through my cloudy vision. Silence is listening; loudness is silencing what's all around you. Nature is living and breathing art; it's about time I fully appreciated it. A walk outside made all the difference. From now on, I'm going to try to make an effort to put the phone away, take the ear buds out, remove the blinders over my eyes and be more aware of my environment. Will you?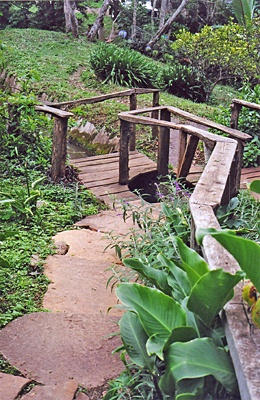 © Ray S., Clovis , CA