Kindergarten Friendships
April 28, 2009
A French poet named Eustache Deschamps once wrote, "Friends are the relatives you make for yourself." I knew the type of family I would like to build for myself at a very young age. At five years old, I met and befriended the two girls that now form my second family. The little girls I met thirteen years ago are now young women who are by my side supporting me as I face the future.
We no longer worry about which game we will play at recess or where in the neighborhood we should ride our bikes. Instead, we face the end of high school, college decisions, and fears of what the future may hold. Each girl deals with the stress of making decisions about her future in her own way. Whether we cry our troubles away or put on a brave face to mask the uncertainty, the family we have formed is a source of comfort for each of us.
The transformation from good friends to family did not occur overnight. The bond between us grew silently until it was so strong that none of us could deny it. Whether we spend the day doing nothing at all, running a few errands, or going to a party on a Saturday night, time spent with my sisters is always precious to me.
Our friendship remains as pure as it was when we first met. There is no jealousy or dishonesty among us. We know each others' strengths and weaknesses but never use that information to take advantage of each other. Instead, I know my sisters well enough to anticipate when she will need a shoulder to cry on as a situation unfolds.

I do not think I could choose a better family than the one I chose in Kindergarten. My honest, supportive, loving, and giving sisters have shaped me into the person I am today. They will also be a part of me for years to come. As we begin our journey through college, we will be sharing memories, new experiences, and even a dorm room. Stepping out into the real world is a daunting task; however. I know my sisters will always be close at hand. Friends are only for right now, but family is forever.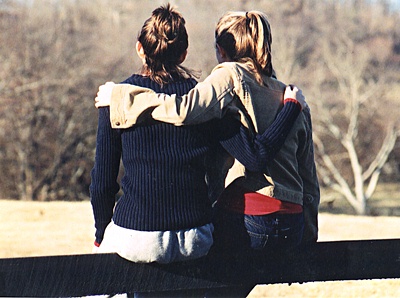 © Jaime M., Wichita Falls, TX