First day of high school
April 24, 2009
The school seemed so big. There were so many people! Most of the people I had never met before. I was nervous. I didn't want to come across dumb. I wanted to fit in and be accepted. I tried making new friends. I saw so many different cliques it wasn't even funny. Band geeks, jocks, cheerleaders, nerds, loners, etc. As I looked around at this unfamiliar place, I hoped for a good future. I was excited to have change. I tried to go with the flow. I learned by the end of the day that everything was going to be ok.

High school is a big change. There are new things to do. People can be extremely rude, nice, or both. People can label others if they choose to. High school may seem scary but it really isn't.

I also remember how the sopmores and upperclassmen acted as if we were immature and didn't belong here. The first day of school all the freshmen had a class picture. We all thought we were so cool. Getting to be at a new place doing new things. We tried showing the rest of the classes at the assembly what we were made of. Take that, seniors! we thought to ourselves. We wanted to be the best and forget the rest.

Obviously, the rest of the school didn't like our attitude. So they reminded us of our place and what rank we were on the popularity scale: zero. We kept our chins held up high and remembered that one day we would be just like them. No one could bring us down!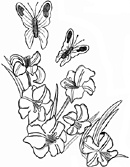 © Leah-Marie D., Peoria, AZ